Letter from Building Committee for State School of the Blind to Thomas W. Bickett, 17 July 1920
Collection:
Repository:
North Carolina, Office of Archives and History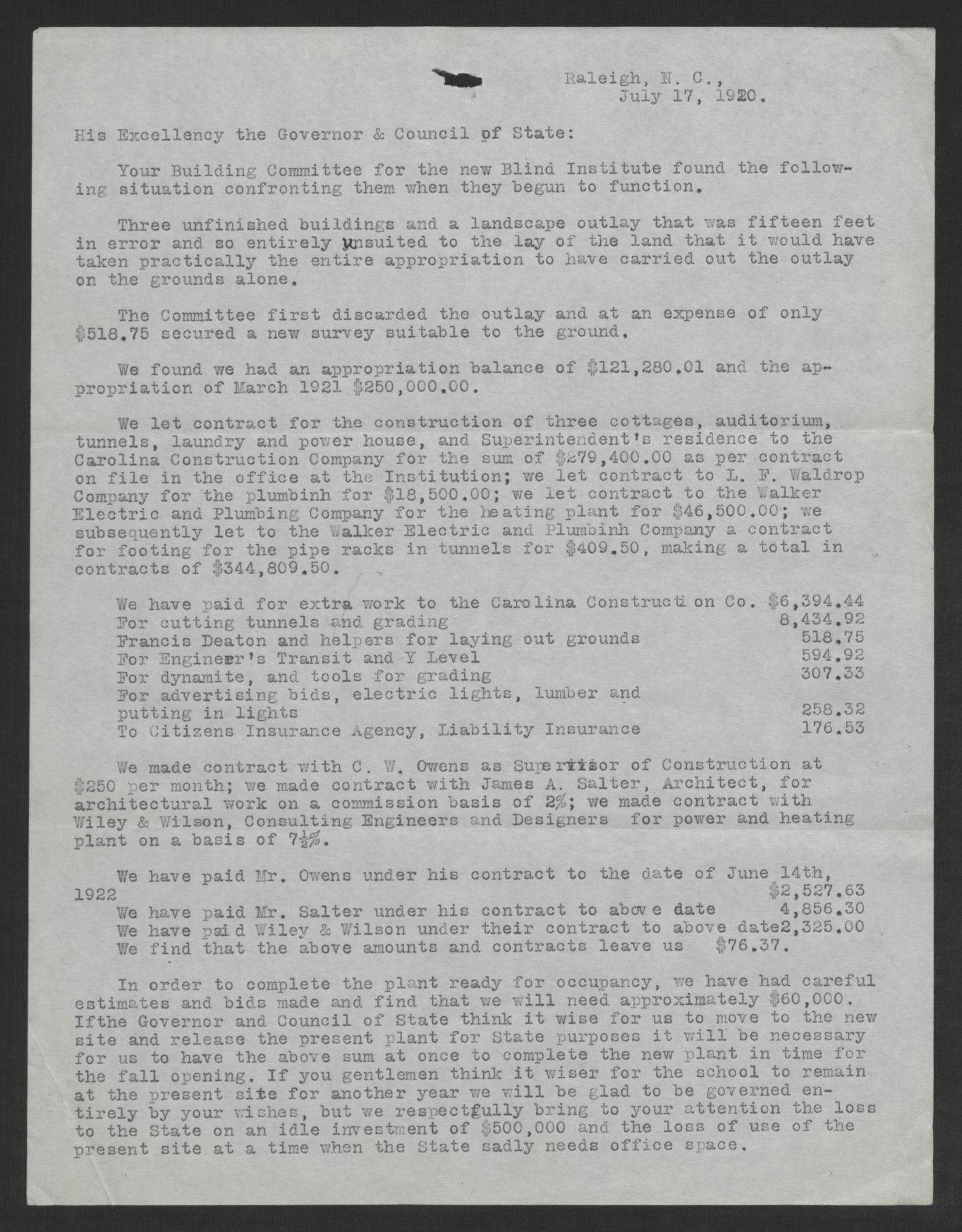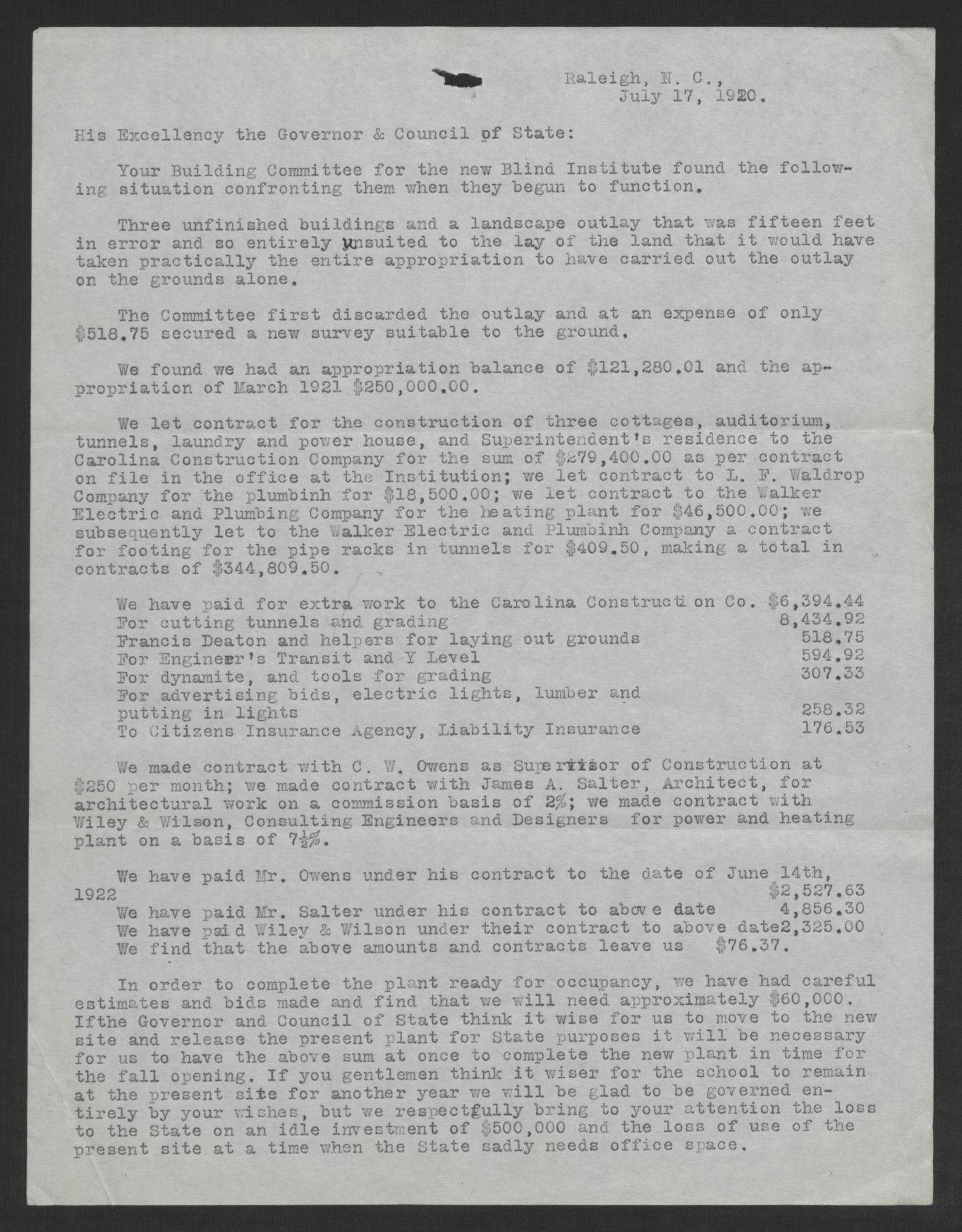 Raleigh, N.C.,
July 17, 1920.
His Excellency the Governor & Council of State:
Your Building Committee for the new Blind Institute found the following situation confronting them when they begun to function.
Three unfinished buildings and a landscape outlay that was fifteen feet in error and so entirely unsuited to the lay of the land that it would have taken practically the entire appropriation to have carried out the outlay on the grounds alone. 
The Committee first discarded the outlay and at an expense of only $518.75 secured a new survey suitable to the ground.
We found we had an appropriation balance of $121,280.01 and the appropriation of March 1921 $250,000.00.
We let contract for the construction of three cottages, auditorium, tunnels, laundry and power house, and Superintendent's residence to the Carolina Construction Company for the sum of $279,400.00 as per contract on file in the office at the Institution; we let contract to L. F. Waldrop Company for the plumbinh for $18,500.00; we let contract to the Walker Electric and Plumbing Company for the heating plant for $46,500.00; we subsequently let to the Walker Electric and Plumbinh Company a contract for footing for the pipe racks in tunnels for $409.50, making a total in contracts of $344,809.50.
We have paid for extra work to the Carolina Construction Co. $6,394.44
For cutting tunnels and grading 8,434.92
Francis Deaton and helpers for laying out grounds 518.75
For Engineer's Transit and Y Level 594.92
For dynamite, and tools for grading 307.33
For advertising bids, electric lights, lumber and putting in lights 258.32
To Citizens Insurance Agency, Liability Insurance 176.53
We made contract with C. W. Owens as Supervisor of Construction at $250 per month; we made contract with James A. Salter, Architect, for architectural work on a commission basis of 2%; we made contract with Wiley & Wilson, Consulting Engineers and Designers for power and heating plant on a basis of 7 1/2 %.
We have paid Mr. Owens under his contract to the date of June 14th, 1922 $2,527.63
We have paid Mr. Salter under his contract to above date 4,856.30
We have paid Wiley & Wilson under their contract to above date 2,325.00
We find that the above amounts and contracts leave us $76.37.
In order to complete the plant ready for occupancy, we have had careful estimates and bids made and find that we will need approximately $60,000. Ifthe Governor and Council of State think it wise for us to move to the new site and release the present plant for State purposes it will be necessary for us to have the above sum at once to complete the new plant in time for the fall opening. If you gentlemen think it wiser for the school to remain at the present site for another year we will be glad to be governed entirely by your wishes, but we respectfully bring to your attention the loss to the State on an idle investment of $500,000 and the loss of use of the present site at a time when the State sadly needs office space.
Respectfully submitted:
R. S. Busbee)
C. M. Wilson)  Building Committee.
A. L. McNeill)
View More Record Details

Manuscript Type: