Letter from Joseph J. Laughinghouse and Amos G. Cox to Thomas W. Bickett, Circa May 1918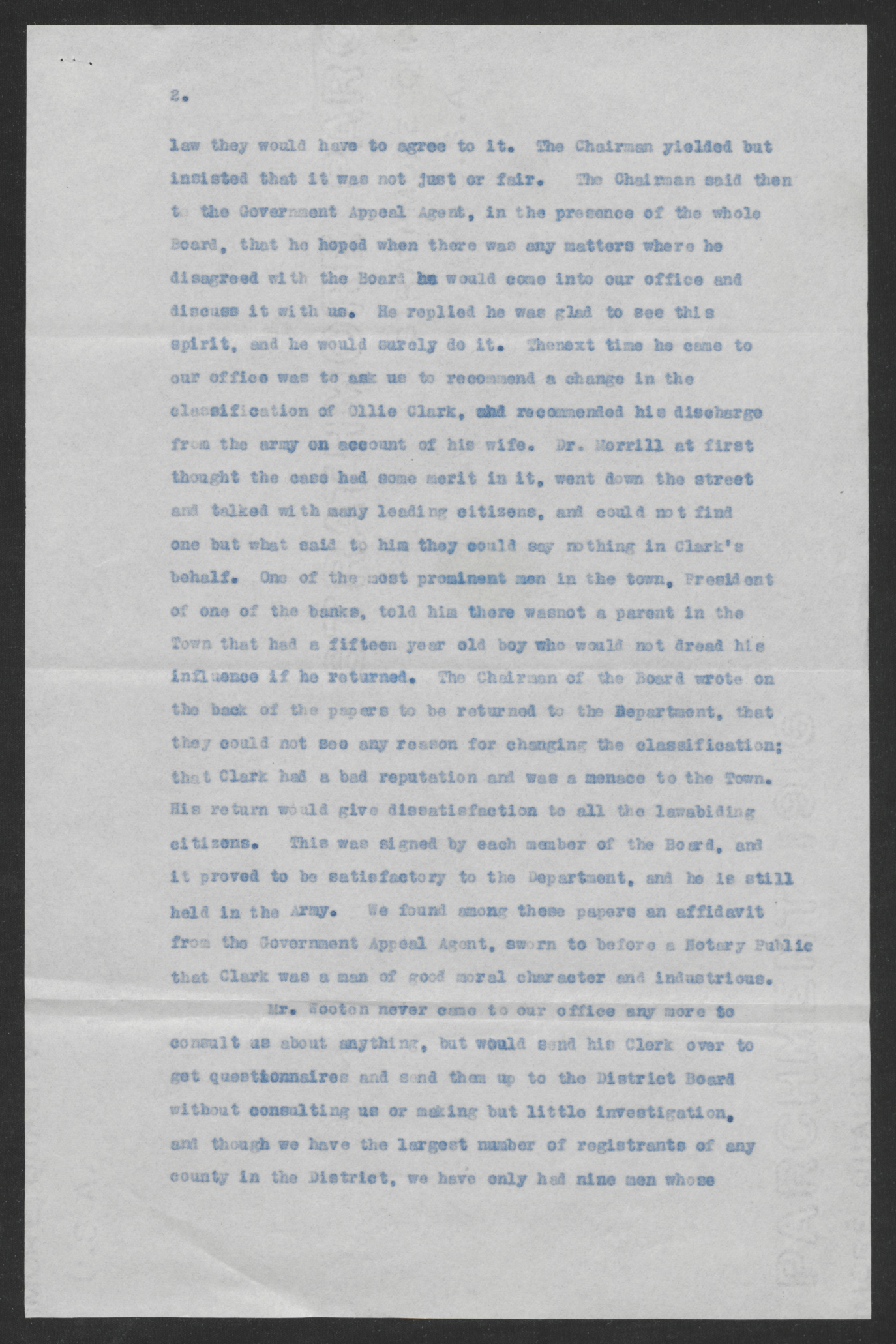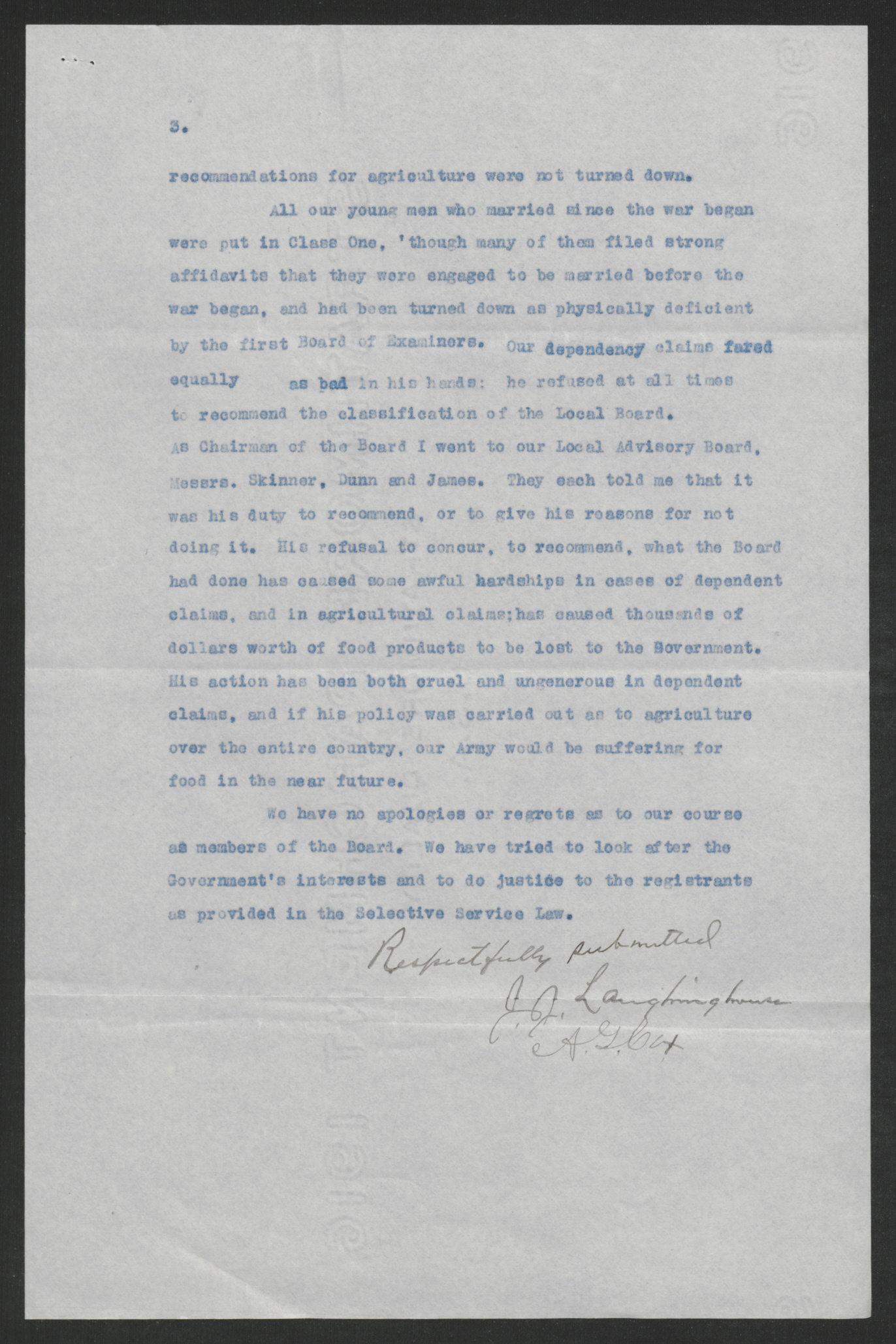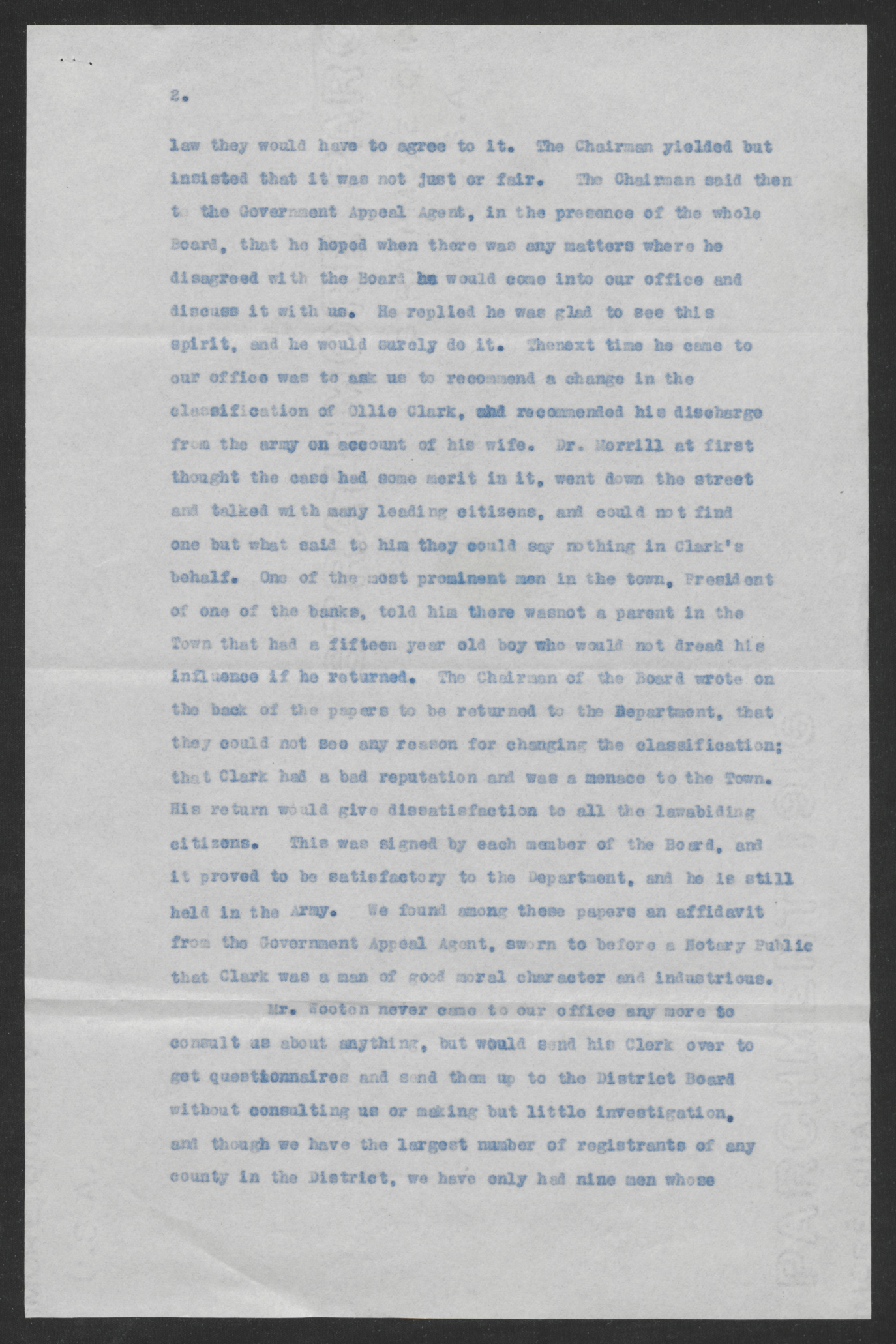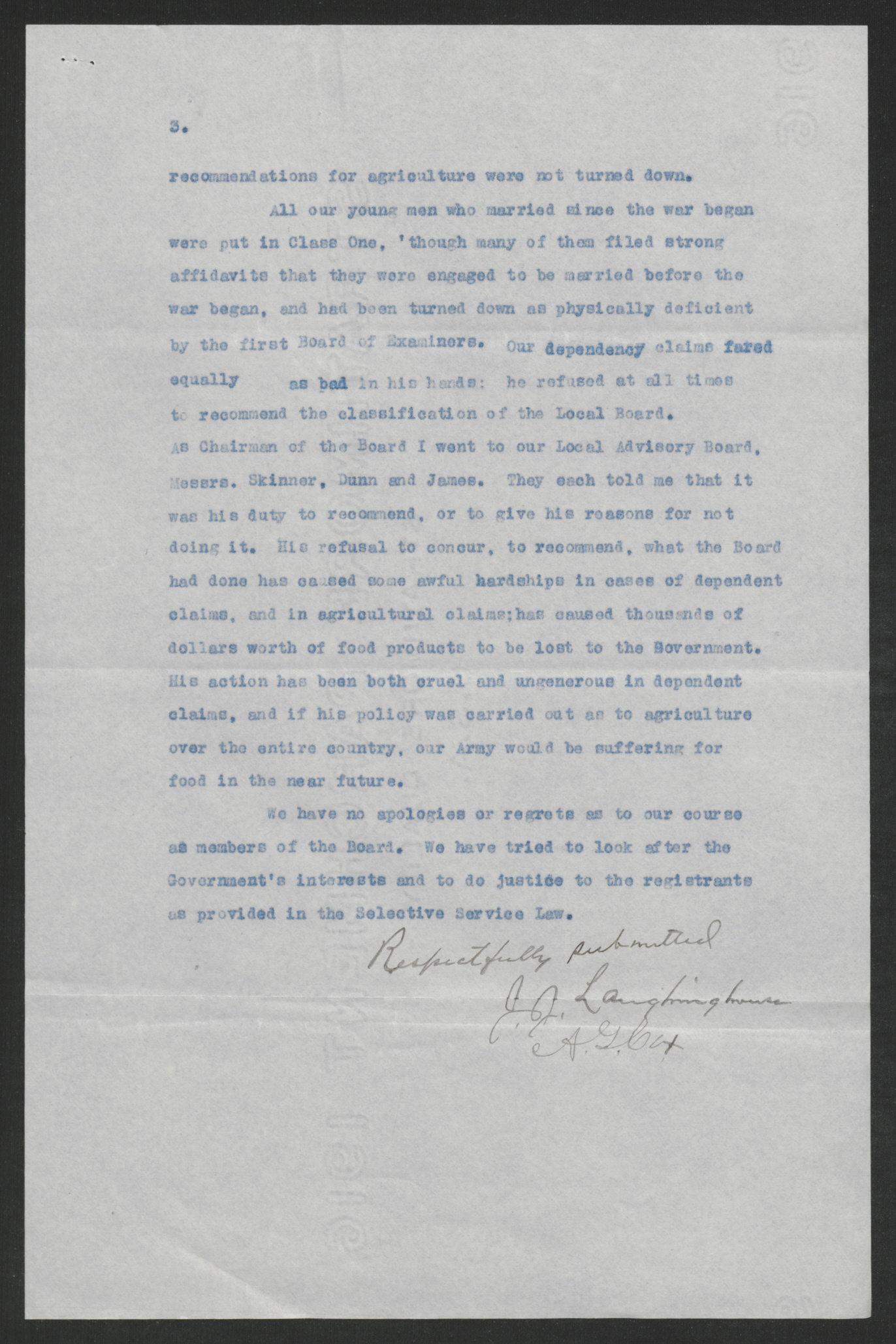 Official
To the Gov of N. C.
The Pitt County Local Board was organized about June 1st, 1917, J. J. Laughinghouse elected Chairman, A. G. Cox and Jenniss Morrill, M. D., Associates.
We agreed upon the following rules:
All men with wives, and child, or children, including unborn, to go in Class four; All men with wives, without children, in Class Two-B. Only two exceptions made in our entire draft known to the Board at the time. One white man who was an habitual drunkard, and a negro who was cruel and brutal to his wife and lived by selling whiskey. These cases had a unanimous vote for the whole Board.
All the dependencies had to have the majority of the Board to agree as to the classification. There was no disagreement among the Board upon any classification of any dependency claim. The only disagreement at any time was as to the classification of men with wives and no children, the Chairman insisting at all times that it was not just to put them in the same class with men that had wives and children.
Mr. Simmons was appointed Government Appeal Agent and acted for about seven or eight months. Whenever he was requested to investigate certain classes of cases, he would confer with the Board, and as a rule found our classification agreeing with his ideas, recommended that the classification of the Local Board was correct. We had no trouble while he was Government Appeal Agent. Later Mr. Simmons resigned on account of the work taking too much of his time.
F. M. Wooten was appointed in his place. He came into our office and said he would like to talk over the cases of married men with no children, including those that had gotten married since war was declared. He insisted they should all be put in Class Four. After some discussion of the matter Mr. Cox and Dr. Morrill said if we followed the strict letter of the law they would have to agree to it. The Chairman yielded but insisted that it was not just or fair. The Chairman said them to the Government Appeal Agent, in the presence of the whole Board, that he hoped when there was any matters where he disagreed with the Board he would come into our office and discuss it with us. He replied that he was glad to see this spirit, and he would surely do it. The next time he came to our office was to ask us to recommend a change in the classification of Ollie Clark, and recommended his discharge from the army on account of his wife. Dr. Morrill at first thought the case had some merit in it, went down the street and talked with many leading citizens, and could not find one but what said to him they could say nothing in Clark's behalf. One of the most prominent men in the town, President of one of the banks, told him there was not a parent in the Town that had a fifteen year old boy who would not dread his influence if he returned. The Chairman of the Board wrote on the back of the papers to be returned to the Department, that they could not see any reason for changing the classification; that Clark had a bad reputation and was a menace to the Town. His return would give dissatisfaction to all the law abiding citizens. This was signed by each member of the Board, and it proved to be satisfactory to the Department, and he is still held in the Army. We found among these papers an affidavit from the Government Appeal Agent, sworn to before a Notary Public that Clark was a man of good moral character and industrious.
Mr. Wooten never came to our office any more to consult us about anything, but would send his Clerk over to get questionnaires and send them up to the District Board without consulting us or making but little investigation, and though we have the largest number of registrants of any county in the District, we have only had nine men whose recommendations for agriculture were not turned down.
All our young men who married since the war began were put in Class One, 'though many of them filed strong affidavits that they were engaged to be married before the war began, and had been turned down as physically deficient by the first Board of Examiners. Our dependency claims fared equally as bad in his hands: he refused at all times to recommend the classification of the Local Board. As Chairman of the Board I went to our Local Advisory Board, Messrs. Skinner, Dunn and James. They each told me that it was his duty to recommend, or to give his reasons for not doing it. His refusal to concur, to recommend, what the Board had done has caused some awful hardships in cases of dependent claims, and in agricultural claims; has caused thousands of dollars worth of food products to be lost to the Government. His action has been both cruel and ungenerous in dependent claims, and if his policy was carried out as to agriculture over the entire country, our Army would be suffering for food in the near future.
We have no apologies or regrets as to our course as members of the Board. We have tried to look after the Government's interests and to do justice to the registrants as provided in the Selective Service Law.
Respectfully submitted
J. J. Laughinghouse
A. G. Cox
View More Record Details

Manuscript Type: