Michael J. Smith to Bobby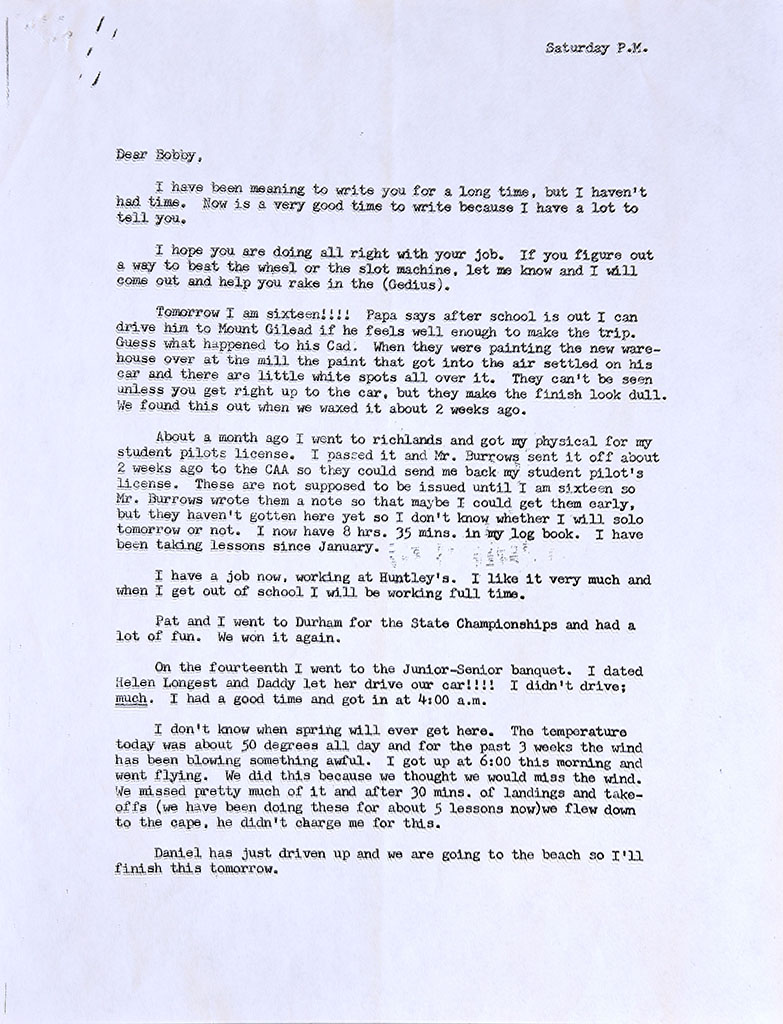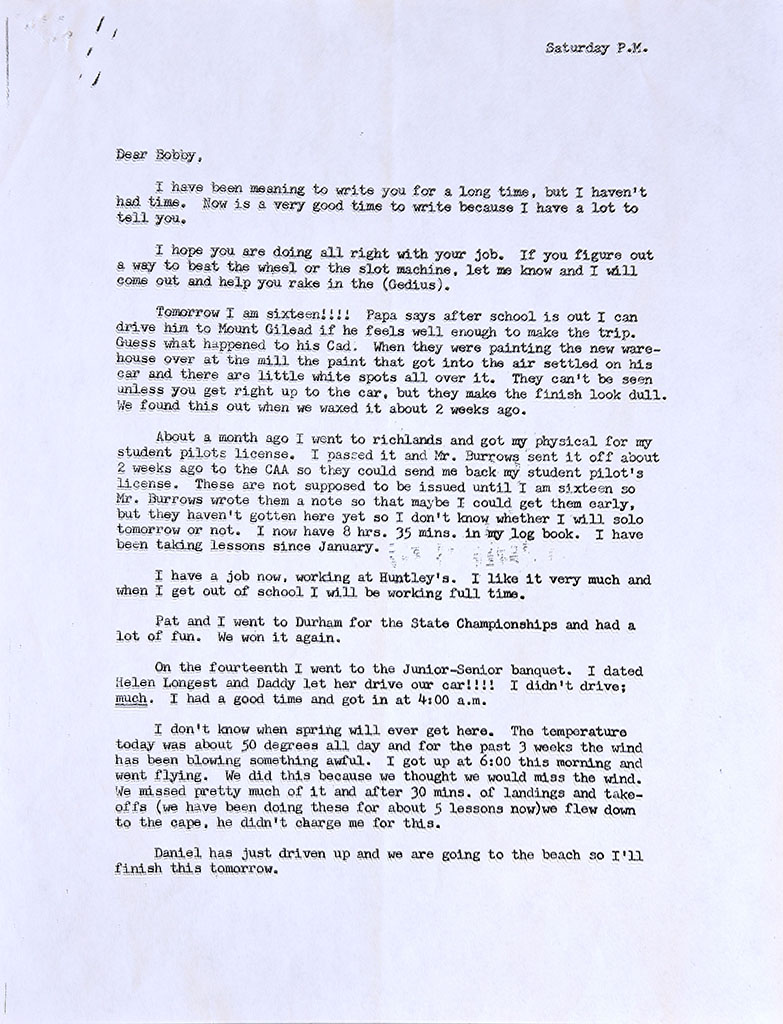 Michael J. Smith to Bobby
Dear Bobby,
I have been meaning to write you for a long time, but I haven't had time. Now is a very good time to write because I have a lot to tell you.
I hope you are doing all right with your job. If you figure out a way to beat the wheel or the slot machine, let me know and I will come out and help you rake in the (Gedius).
Tomorrow I am sixteen!!!! Papa says after school is out I can drive him to Mount Gilead if he feels well enough to make the trip. Guess what happened to his Cad. When they were painting the new ware-house over at the mill the paint that got into the air settled on his car and there are little white spots all over it. They can't be seen unless you get right up to the car, but they make the finish look dull. We found this out when we waxed it about 2 weeks ago.
About a month ago I went to richlands and got my physical for my student pilots license. I passed it and Mr. Burrows sent it off about 2 weeks ago to the CAA so they could send me back my student pilot's license. These are not supposed to be issued until I am sixteen so Mr. Burrows wrote them a note so that maybe I could get them early, but they haven't gotten here yet so I don't know whether I will solo tomorrow or not. I now have 8 hrs. 35 mins. in my log book. I have been taking lessons since January.
I have a job now, working at Huntley's. I like it very much and when I get out of school I will be working full time.
Pat and I went to Durham for the State Championships and had a lot of fun. We won it again.
On the fourteenth I went to the Junior-Senior banquet. I dated Helen Longest and Daddy let her drive our car!!!! I didn't drive; much. I had a good time and got in at 4:00 a.m.
I don't know when spring will ever get here. The temperature today was about 50 degrees all day and for the past 3 weeks the wind has been blowing something awful. I got up at 6:00 this morning and went flying. We did this because we thought we would miss the wind. We missed pretty much of it and after 30 mins. of landings and take-offs (we have been doing these for about 5 lessons now) we flew down to the cape, he didn't charge me for this.
Daniel has just driven up and we are going to the beach so I'll finish this tomorrow.
It is now six o'clock, the wind is dead calm and I'm going flying in about 1/2 hr.
I hope you can get home sometime this summer, but if you can't write me.
I meant for that last sentence to be the end of this letter but it isn't. I went flying alright, I soloed!!!! Mr. Burrows had had my license for about 4 days and hadn't let me know it. He called Daddy last night and told him that he had them but not to tell me. So this morning when I soloed everybody was there to see me but I didn't know it. He let me fly over the beach and back by myself after I had been around the field twice by myself.
This has been a very happy birthday.
Hope to see you soon.
Mike Smith
P.S. Pat said to say Hello.