Report on Alleged Partiality of the Pitt County Exemption Board, 10 January 1918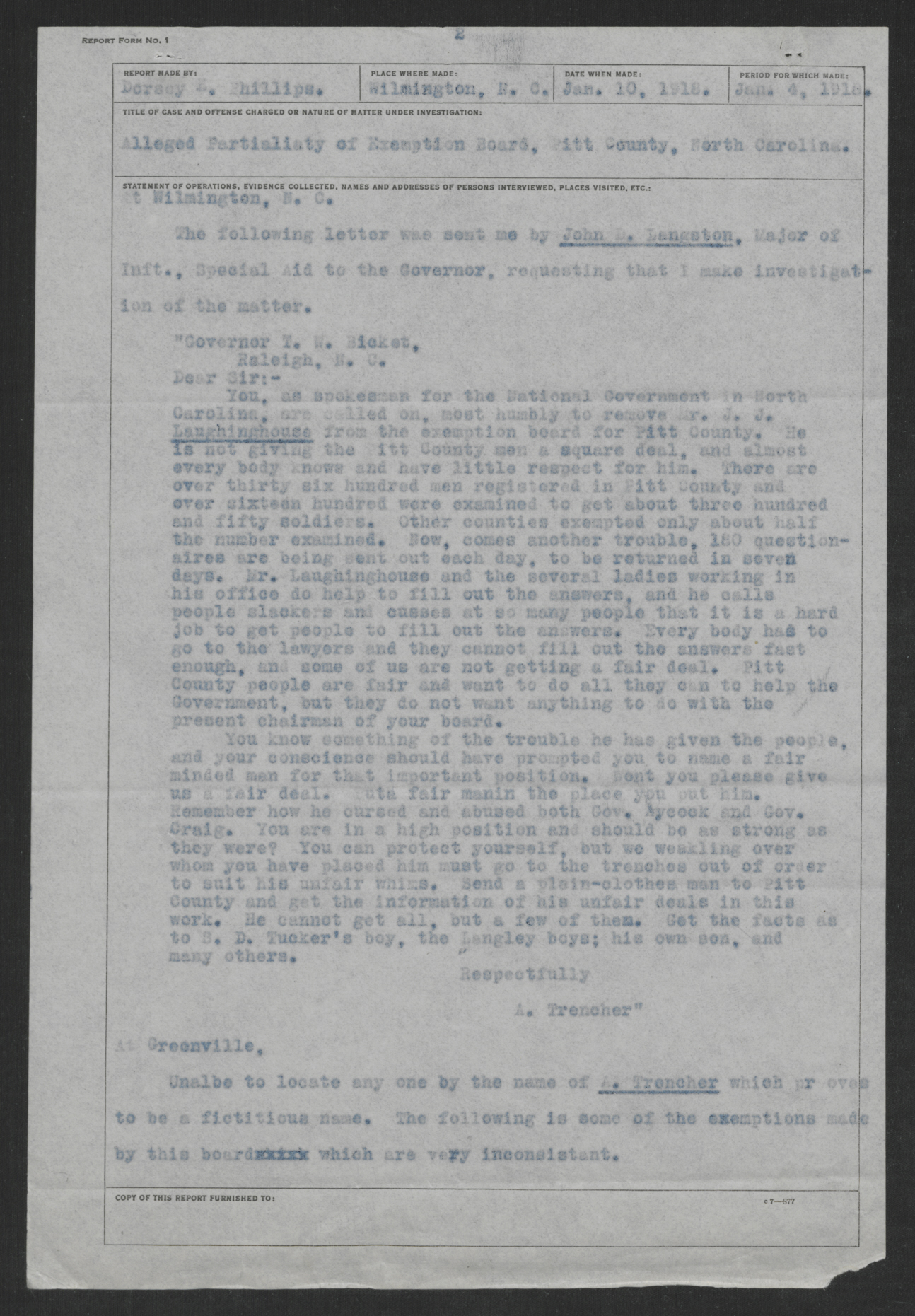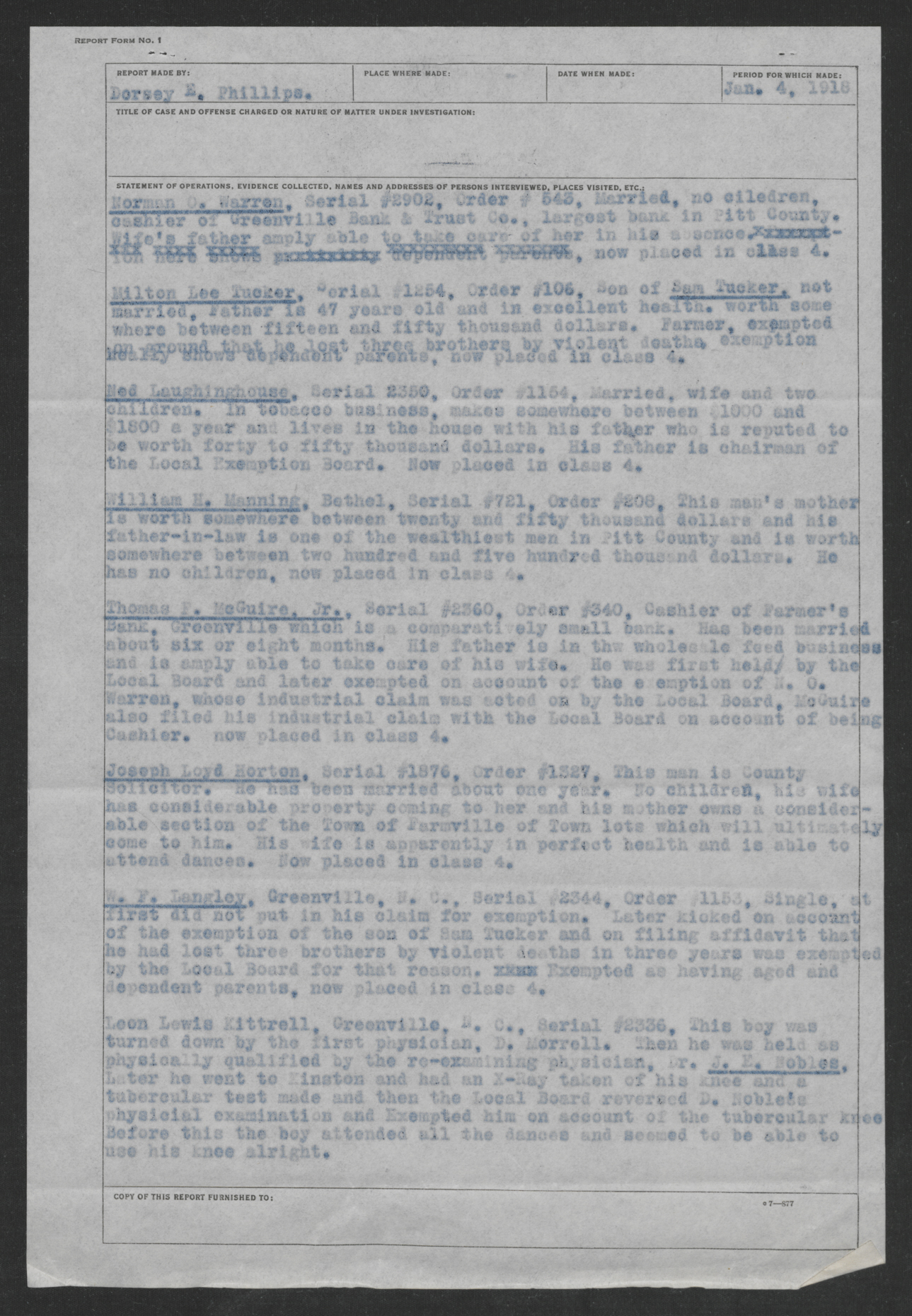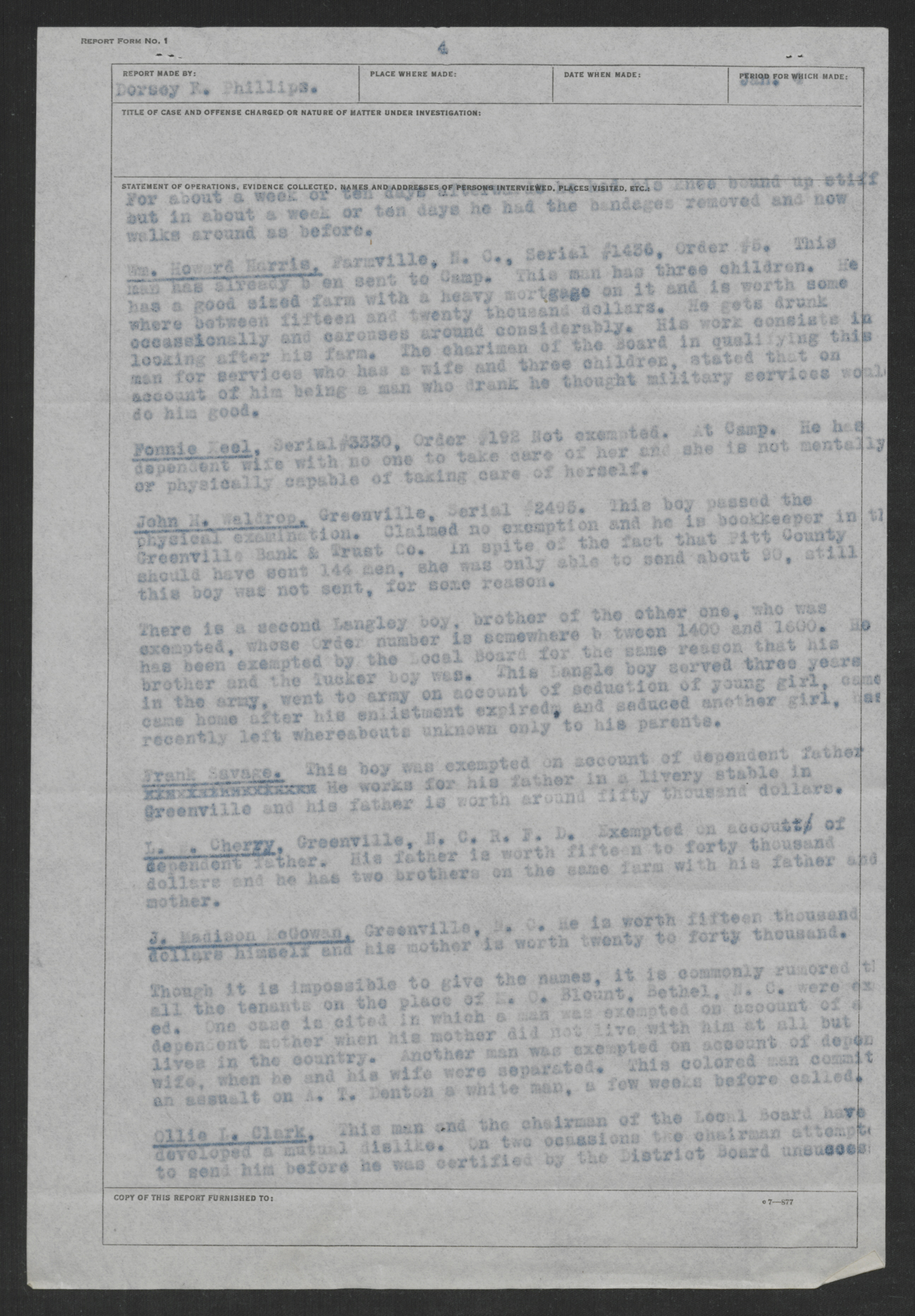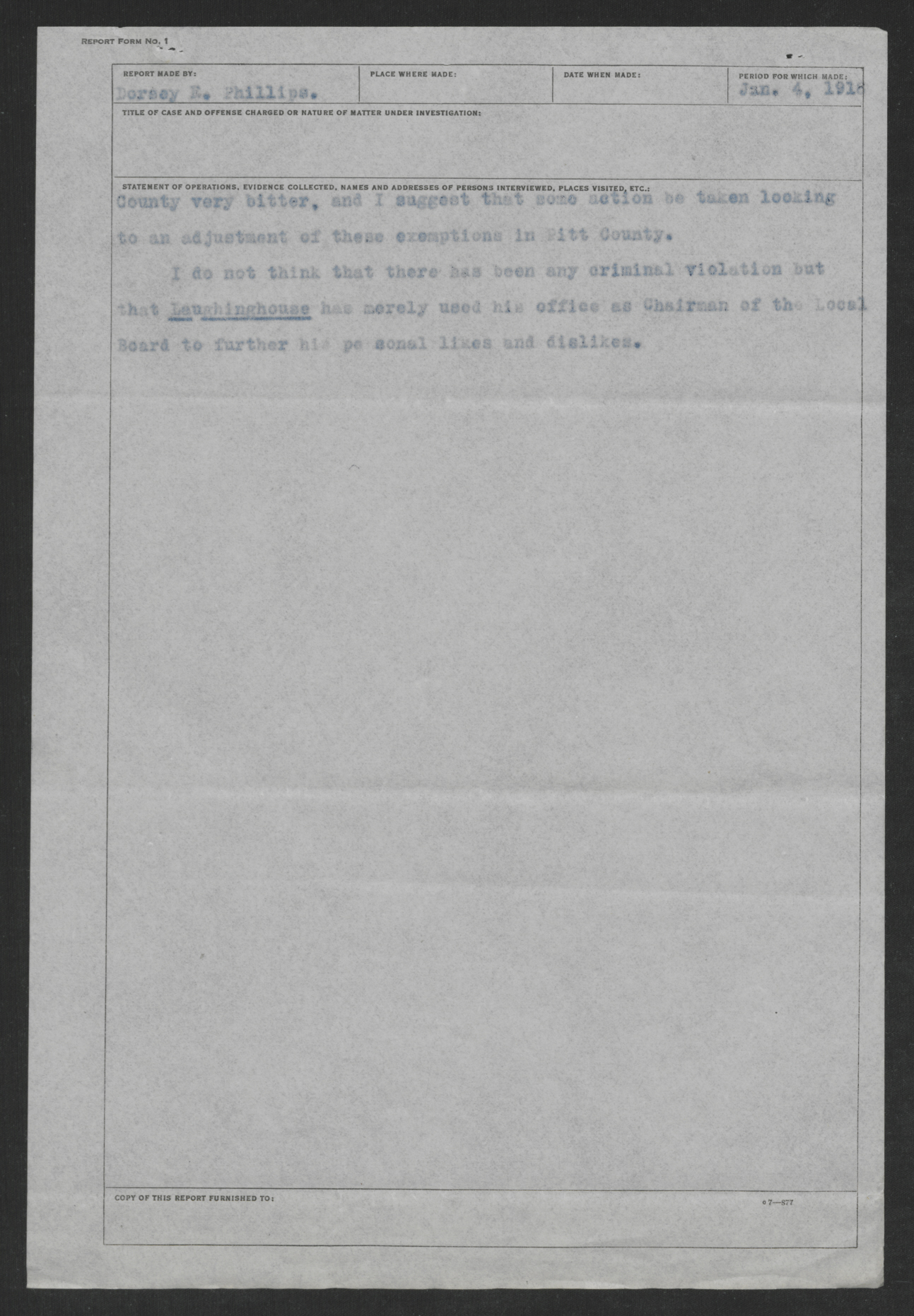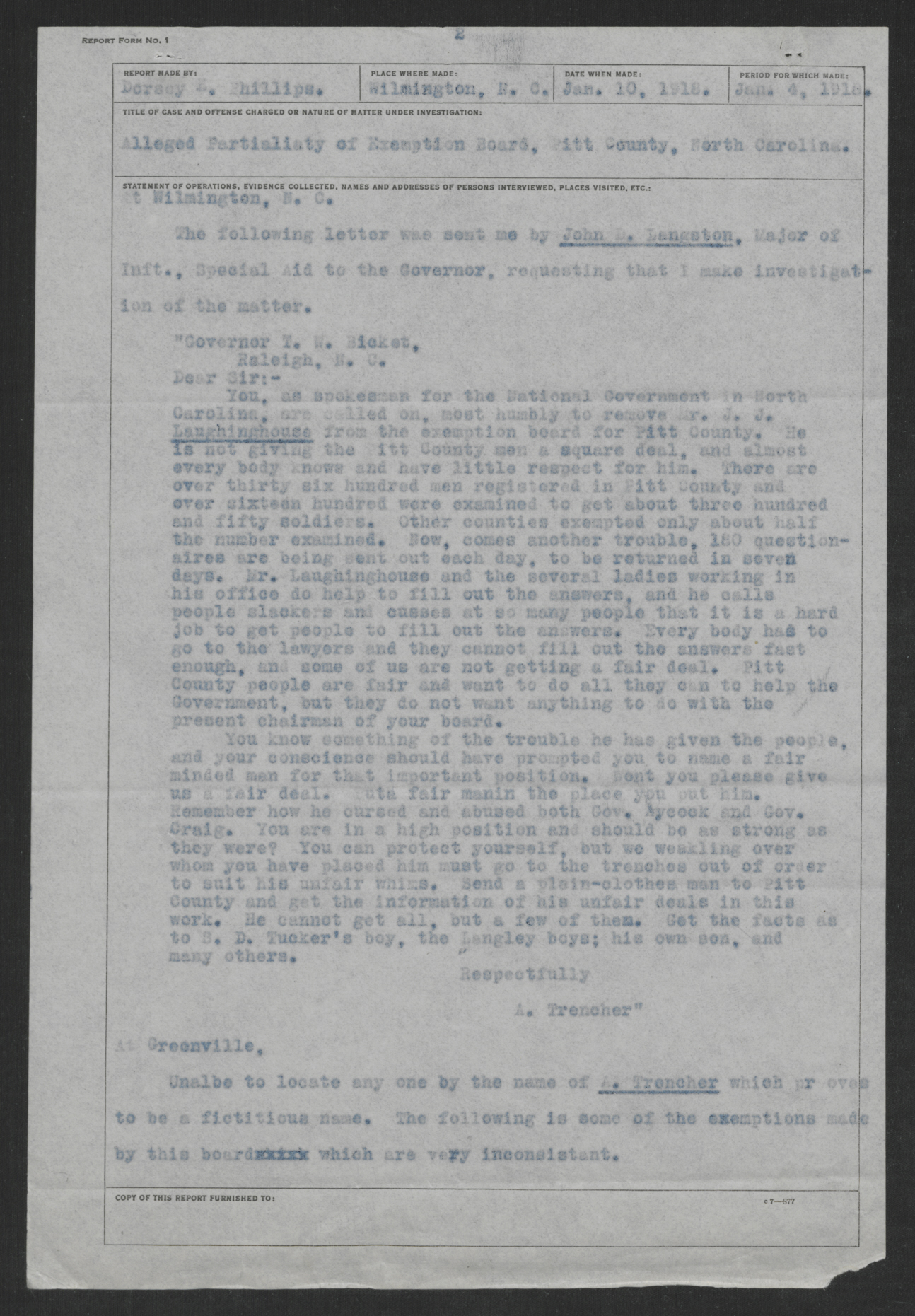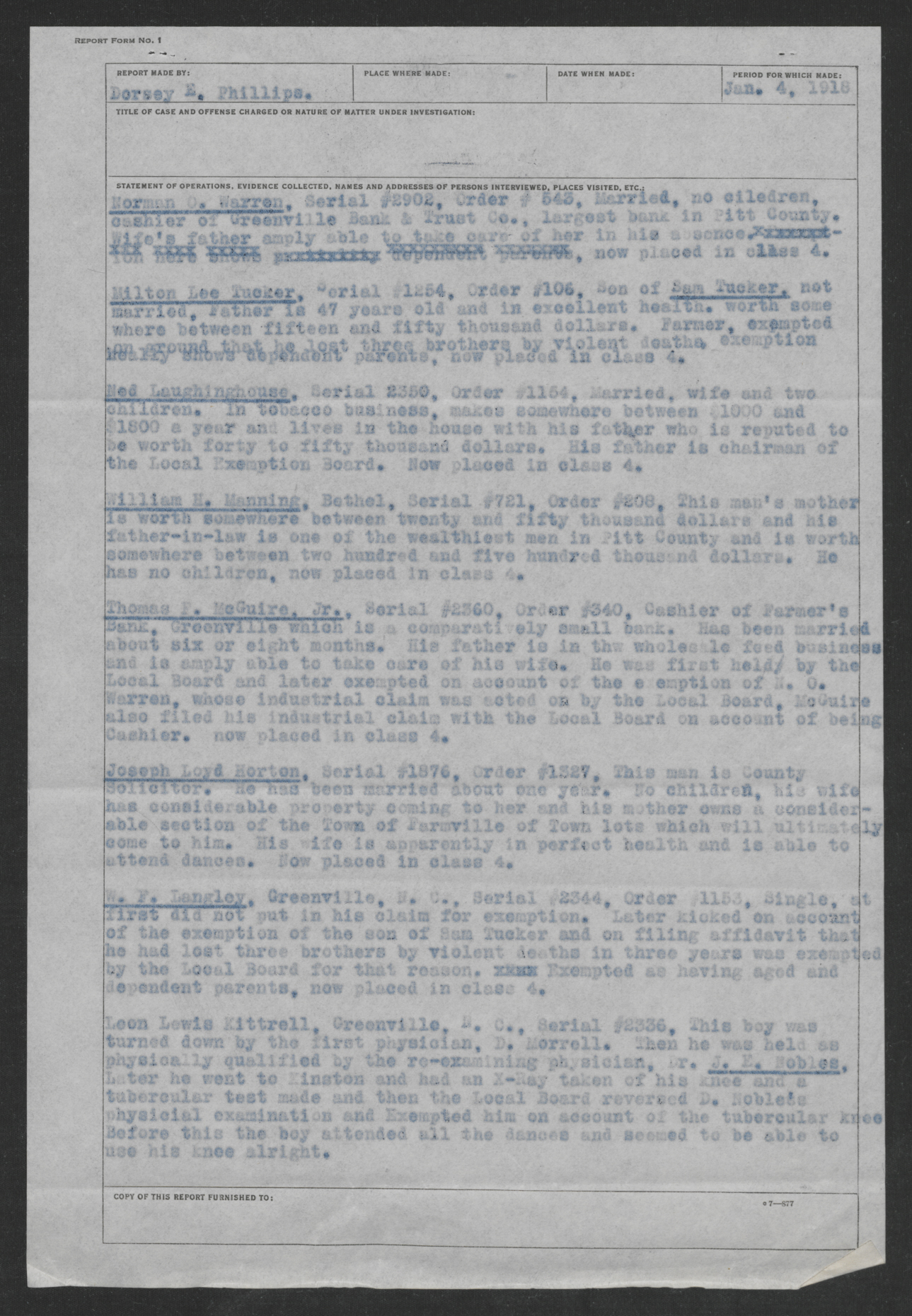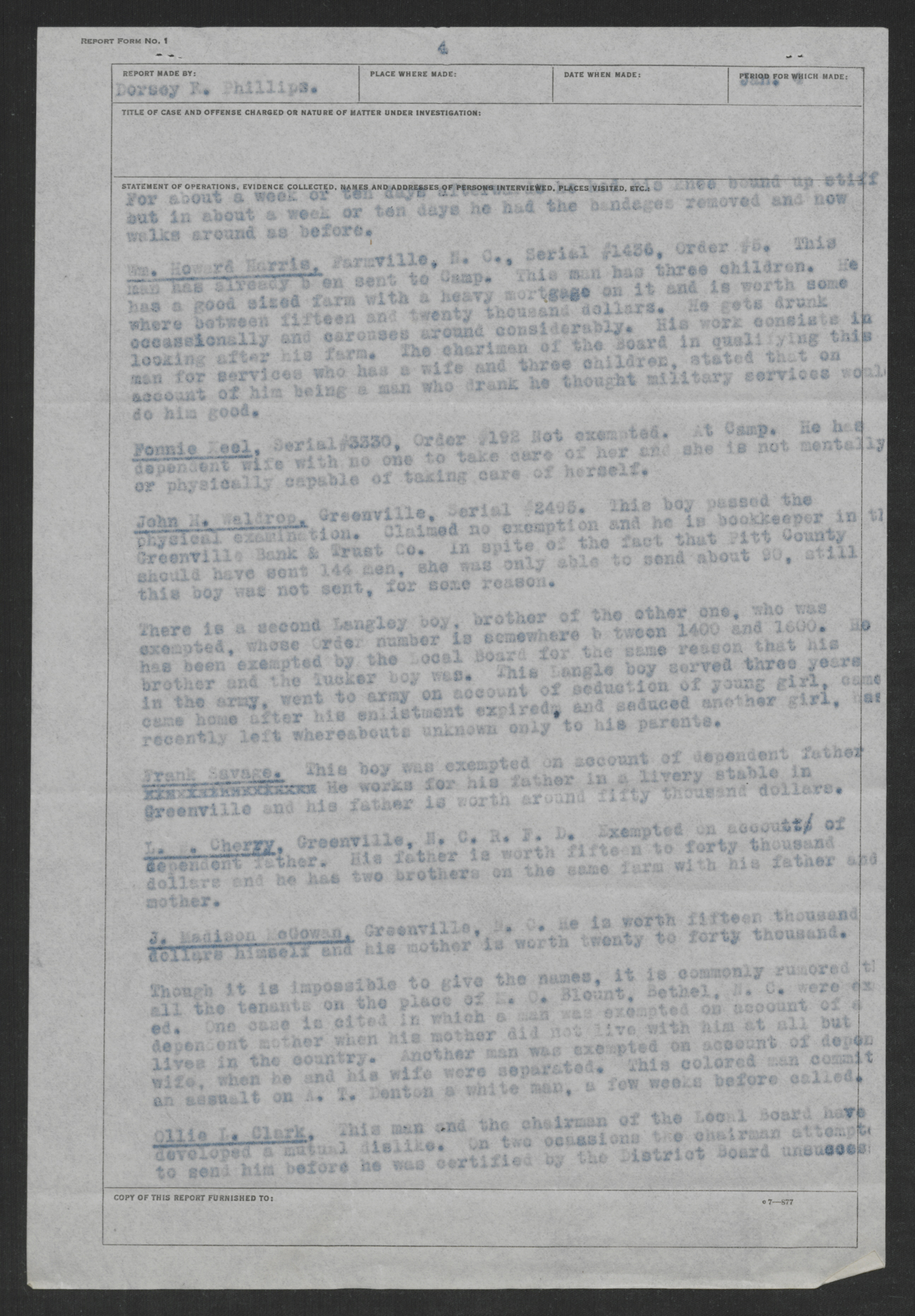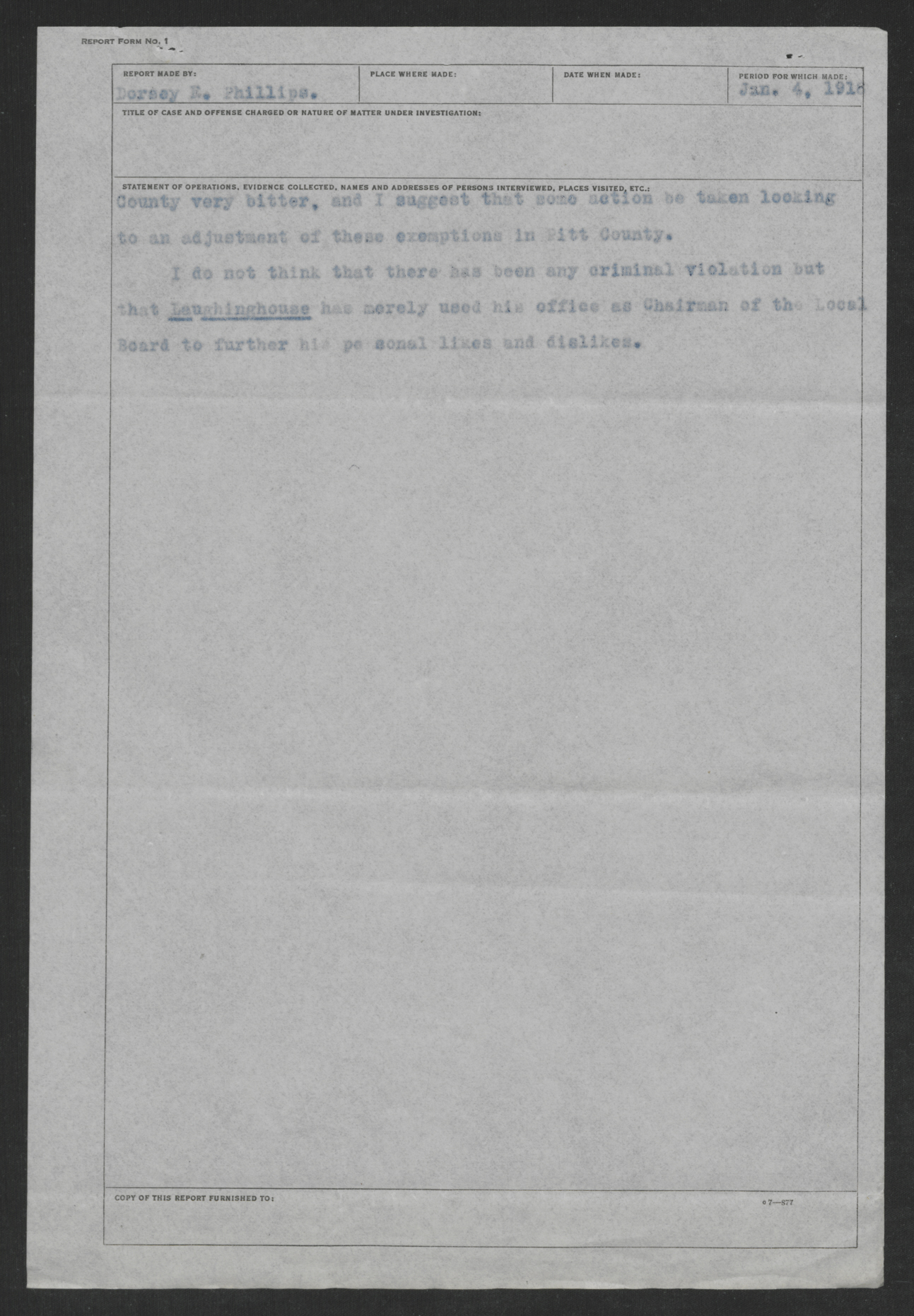 Report Made By: Dorsey E. Phillips
Place Where Made: Wilmington, N.C.
Date When Made: Jan. 10, 1918.
Period for Which Made: Jan. 4, 1918.
Title of Case and Offense Charged or Nature of Matter under Investigation: Alleged Partiality of Exemption Board, Pitt County, North Carolina.
Statement of Operations, Evidence Collected, Names and Addresses of Persons Interviews, Places Visited, Etc.:
At Wilmington, N.C.
The following letter was sent me by John D. Langston, Major of Inft., Special Aid to the Governor, requesting that I make investigation of the matter.
"Governor T. W. Bicket,
Raleigh, N.C.
Dear Sir:-
You, as spokesman for the National Government in North Carolina, are called on, most humbly to remove Mr. J. J. Laughinghouse from the exemption board for Pitt County. He is not giving the Pitt County men a square deal, and almost every body knows and have little respect for him. There are over thirty six hundred men registered in Pitt County and over sixteen hundred were examined to get about three hundred and fifty soldiers. Other counties exempted only about half the number examined. Now, comes another trouble, 180 questionaires are being sent out each day, to be returned in seven days. Mr. Laughinghouse and the several ladies working in this office do help the fill out the answers, and he calls people slackers and cusses at so many people that it is a hard job to get people to fill out the answers. Every body has to go to the lawyers and they cannot fill out the answers fast enough, and some of us are not getting a fair deal. Pitt County people are fair and want to do all they can to help the Government, but they do not want anything to do with the present chairman of your board.
You know something of the trouble he has given the people, and your conscience should have prompted you to name a fair minded man for that important position. Wont you please give us a fair deal. Puta fair manin the place you put him. Remember how he cursed and abused both Gov. Aycock and Gov. Craig. You are in a high position and should be as strong as they were? You can protect yourself, but we weakling over whom you have placed him must go to the trenches out of order to suit his unfair whims. Send a plain-clothes man to Pitt County and get the information of his unfair deals in this work. He cannot get all, but a few of them. Get the facts as to S. D. Tucker's boy, the Langley boys; his own son, and many others.
Respectfully
A. Trencher"
At Greenville,
Unalbe to locate any one by the name of A. Trencher which proves to be a fictitious name. The following is some of the exemptions made by this board which are very inconsistant.
Norman O. Warren, Serial #2902, Order #543, Married, no ciledren, cashier of Greenville Bank & Trust Co., largest bank in Pitt County. Wife's father amply able to take care of her in his absence, now placed in class 4.
Milton Lee Tucker, Serial #1254, Order #106, Son of Sam Tucker, not married, Father is 47 years old and in excellent health. worth some where between fifteen and fifty thousand dollars. Farmer, exempted on ground that he lost three brothers by violent deaths, exemption [illegible] shows dependent parents, now placed in class 4.
Ned Laughinghouse, Serial 2350, Order #1154, Married, wife and two children. In tobacco business, makes somewhere between $1000 and $1800 a year and lives in the house with his father who is reputed to be worth forty to fifty thousand dollars. His father is chairman of the Local Exemption Board. Now placed in class 4.
William H. Manning, Bethel, Serial #721, Order #208, This man's mother is worth somewhere between twenty and fifty thousand dollars and his father-in-law is one of the wealthiest men in Pitt County and is worth somewhere between two hundred and five hundred thousand dollars. He has no children, now placed in class 4.
Thomas F. McGuire, Jr., Serial #2360, Order #340, Cashier of Farmer's Bank, Greenville which is a comparatively small bank. Has been married about six or eight months. His father is in thw wholesale feed business and is amply able to take care of his wife. He was first held by the Local Board and later exempted on account of the exemption of N. O. Warren, whose industrial claim was acted on by the Local Board. McGuire also filed his industrial claim with the Local Board on account of being Cashier. now placed in class 4.
Joseph Loyd Horton, Serial #1876, Order #1327, This man is County Solicitor. He has been married about one year. No children, his wife has considerable property coming to her and his mother owns a considerable section of the Town of Farmville and Town lots which will ultimately come to him. His wife is apparently in perfect health and is able to attend dances. Now placed in class 4.
W. F. Langley, Greenville, N.C., Serial #2344, Order #1153, Single, at first did not put in his claim for exemption. Later kicked on account of the exemption of the son of Sam Tucker and on filing affidavit that he had lost three brothers by violent deaths in three years was exempted by the Local Board for that reason. Exempted as having aged and dependent parents, now placed in class 4.
Leon Lewis Kittrell, Greenville, N.C., Serial #2336, This boy was turned down by the first physician, D. Morrell. Then he was held as physically qualified by the re-examining physician, Dr. J. E. Nobles, Later he went to Kinston and had an X-Ray taken of his knee and a tubercular test made and then the Local Board reversed D. Noble's physicial examination and Exempted him on account of the tubercular knee Before this the boy attended all the dances and seemed to be able to use his knee alright. For about a week or ten days afterward he had his knee bound up stiff but in about a week or ten days he had the bandages removed and now walks around as before.
Wm. Howard Harris, Farmville, N.C., Serial #1436, Order #5. This man has already been sent to Camp. This man has three children. He has a good sized farm with a heavy mortgage on it and is worth some where between fifteen and twenty thousand dollars. He gets drunk occassionally and carouses around considerably. His work consists in looking after his farm. The charimen of the Board in qualifying this man for services who has a wife and three children, stated that on account of him being a man who drank he thought military services would do him good.
Fonnie Keel, Serial #3330, Order #192 Not exempted. At Camp. He has dependent wife with no one to take care of her and she is not mentally or physically capable of taking care of herself.
John H. Waldrop, Greenville, Serial #2495. This boy passed the physical examination. Claimed no exemption and he is bookkeeper in the Greenville Bank & Trust Co. In spite of the fact that Pitt County should have sent 144 men, she was only able to send about 90, still this boy was not sent, for some reason.
There is a second Langley boy, brother of the other one, who was exempted, whose Order number is somewhere between 1400 and 1600. He has been exempted by the Local Board for the same reason that his brother and the Tucker boy was. This Langle boy served three years in the army, went to army on account of seduction of young girl, came came home after his enlistment expired, and seduced another girl, has recently left whereabouts unknown only to his parents.
Frank Savage. This boy was exempted on account of dependent father He works for his father in a livery stable in Greenville and his father is worth around fifty thousand dollars.
L. W. Cherry, Greenville, N.C. R. F. D. Exempted on account of dependent father. His father is worth fifteen to forty thousand dollars and he has two brothers on the same farm with his father and mother.
J. Madison McGowan, Greenville, N.C. He is worth fifteen thousand dollars himself and his mother is worth twenty to forty thousand.
Though it is impossible to give the names, it is commonly rumored t[hat] all the tenants on the place of K. O. Blount, Bethel, N. C. were ex[empt]ed. One case is cited in which a man was exempted on account of a dependent mother when his mother did not live with him at all but lives in the country. Another man was exempted on account of depen[dent] wife, when he and his wife were separated. This colored man commit[ted] an assault on A. T. Denton a white man, a few weeks before called.
Ollie L. Clark1, This man and the chairman of the Local Board have developed a mutual dislike. On two ocaasions the chairman attempt[ed] to send him before he was certified by the District Board unsucces[sfully.] This man is married has no children and spends most of his time loafing but always seems to have plenty of money. His wife works in the five and ten cent store in Greenville and makes about $8 per week. On the first of Oct. she went with the Greenville Daily News at $10 a week with the promise of promotion up as high as $15, if she makes good. On the other hand, so far as can be learned, they ran away and got married several years ago and she has no people on whom she could fall back on if she has to make her own living. This man was finally sent to camp and is not in the service.
The above information was given me by Dr. J. E. Nobles, who was upon the exemption board as examining physician, but after a service of 4 days resigned stating in his written resignation that the Board was so unfair, and showing so much partiality that he could not serve as a member of it. I talked with many representative citizens and they are all of the same opinion that the Board is dominated by the Chairman J. J. Laughinghouse and that it is inconsistant and very partial in all of its dealings, the exempted men who are of wealth and the sons of men who are of wealth are being exempted on very flimsy grounds. There is a rumor to the fact that there were two negroes in Pitt County of the same name, but in different townships both subject to the draft, one was called for mobolization, and the mobolization papers sent to the wrong man, the error was not discovere[d] until the men were at the depot with tickets ready to leave for camp, the chairman of the board being there with them, the clerk at the board headquarters discovered the error and telephoned the information to Mr. Laughinghouse, who replied with "O well! he has his ticket now let him go on." This I cannot verify as it was very hard to get anyone to given information with the understanding that they were to b[e] quoted. I interviewed Judge Wooten, D. J. Whichard, United States Commissioner, Marvin K. Blount, and all correspond in the statement that the actions of the board of Pitt County shows incompetancy, and if continued in there present course will tend to make people of the County very bitter, and I suggest that some action be taken looking to an adjustment of these exemptions in Pitt County.
I do not think that there has been any criminal violation but that Laughinghouse has merely used his office as Chairman of the Local Board to further his personal likes and dislikes.
[1] Probably Ollie Francis Clark, born March 13, 1887, in Oxford, North Carolina. Clark was a sales manager for the Atlantic Sales Company in High Point, North Carolina, when he was drafted into the army for service during World War I. He saw combat overseas with the 321st Infantry and was severely wounded on November 11, 1918, the day the war ended. He was honorably discharged by surgeon's certificate of disability in August 1919 and was awarded a Silver Star and a Purple Heart.
View More Record Details

Manuscript Type: