Letter from Sarah R. L. White to Thomas W. Bickett, 1918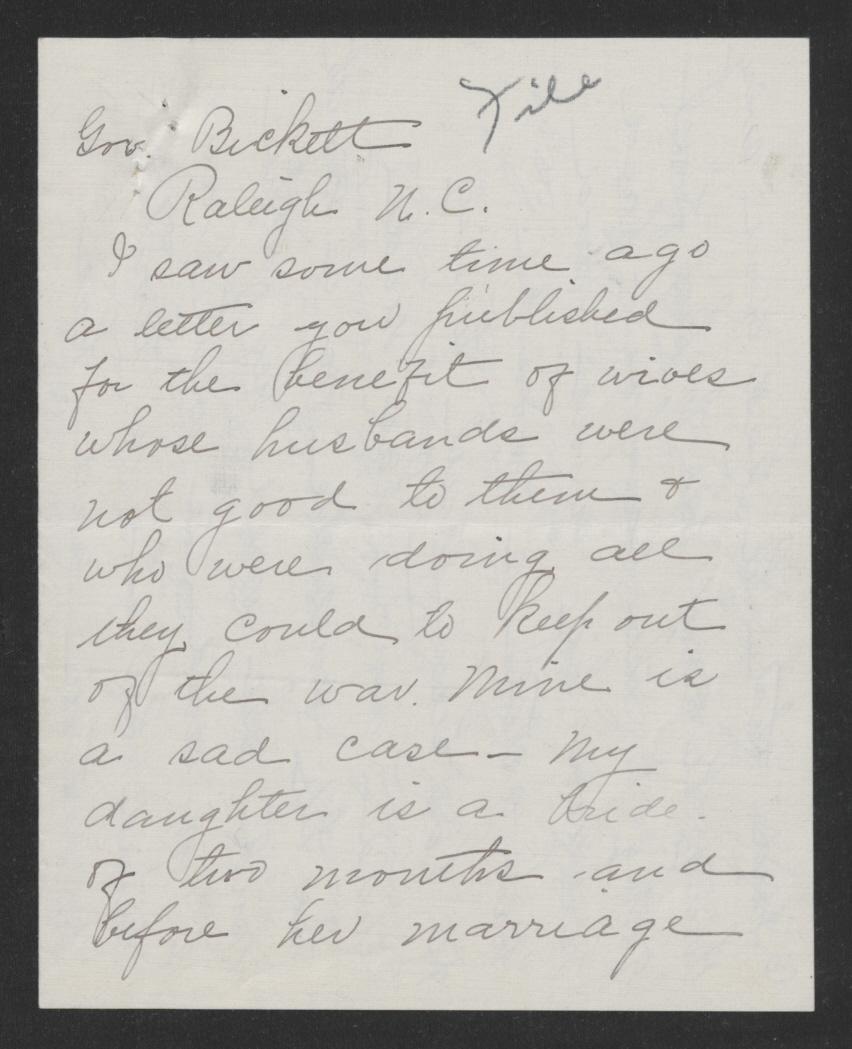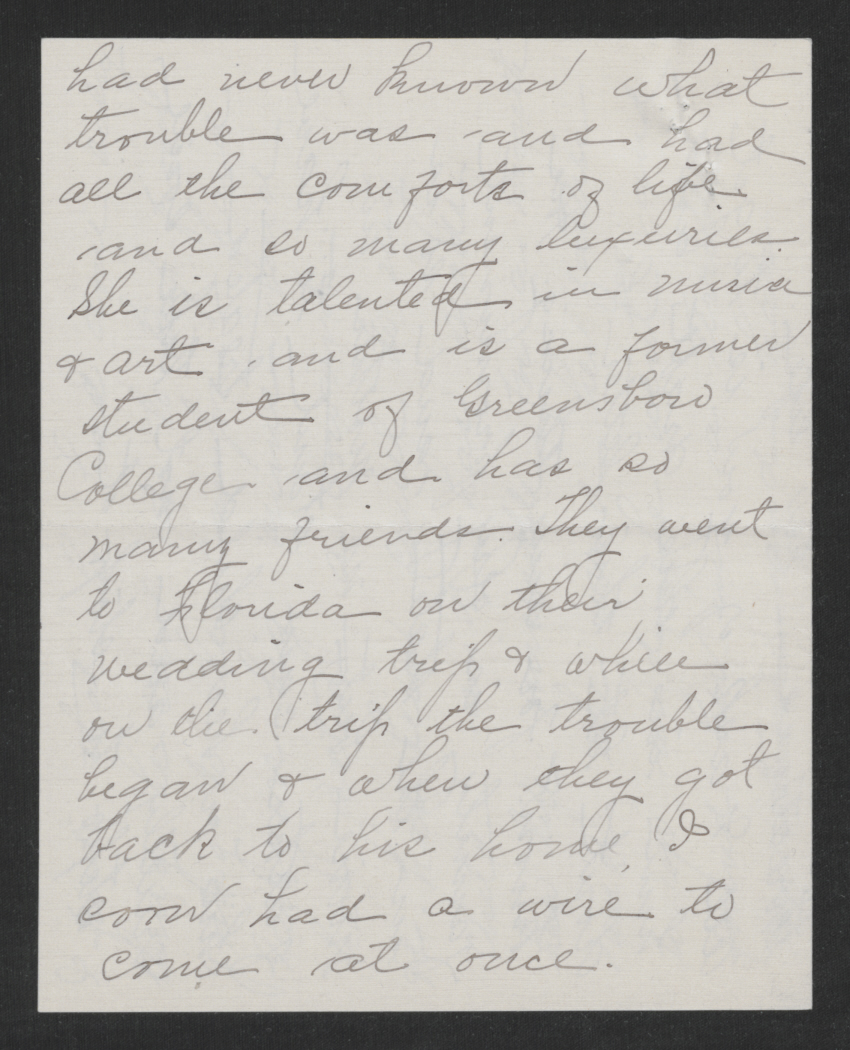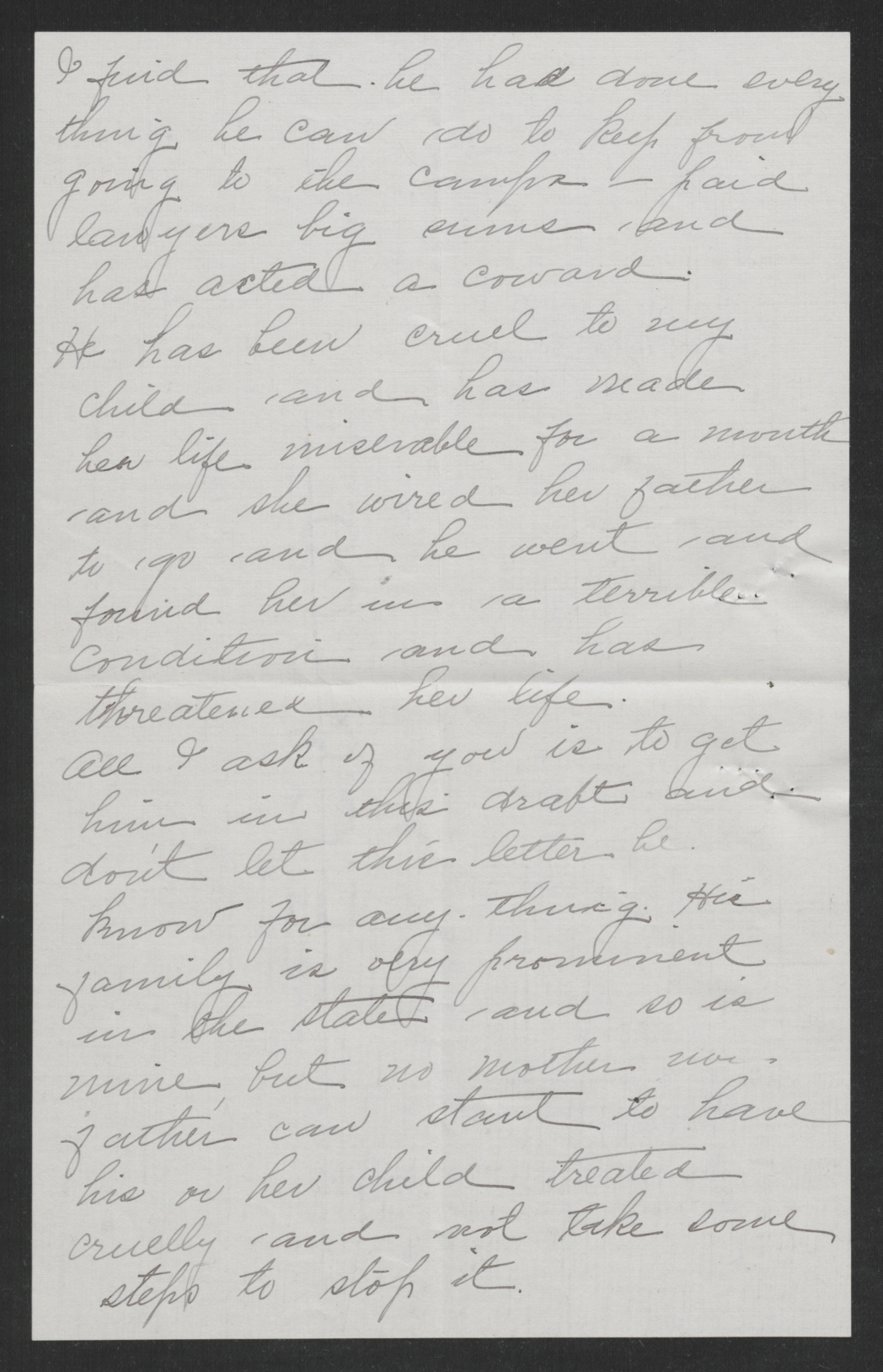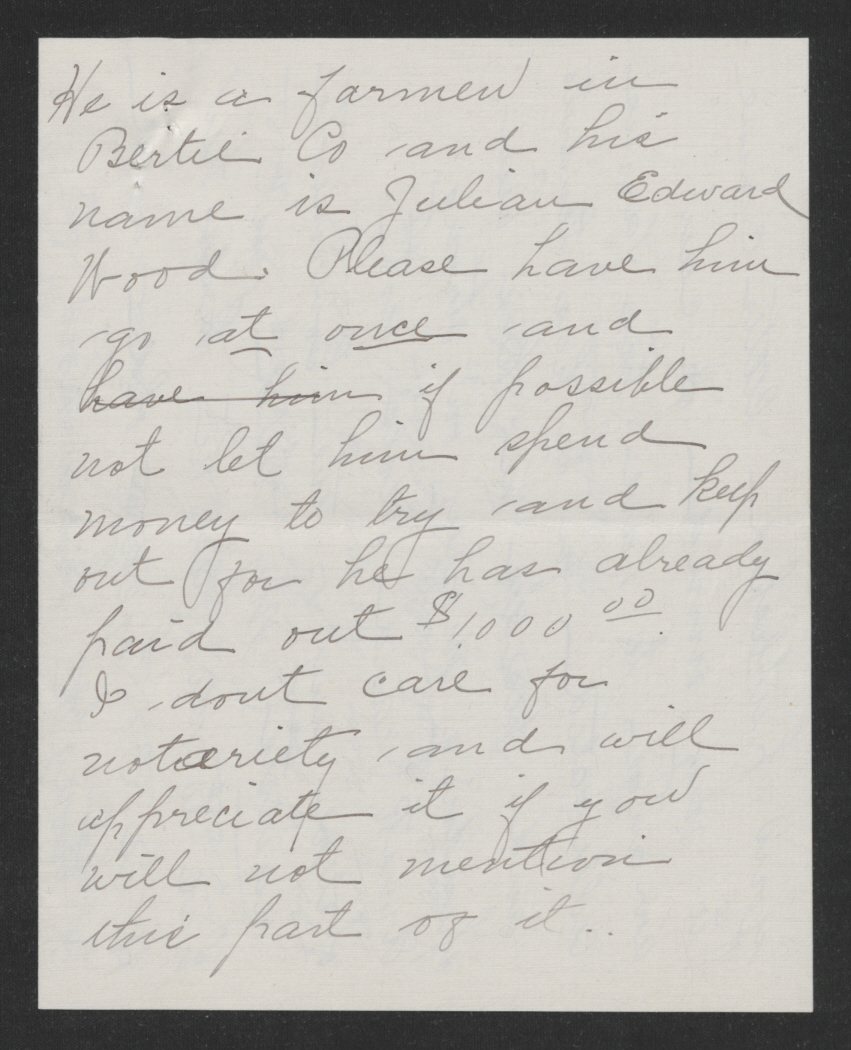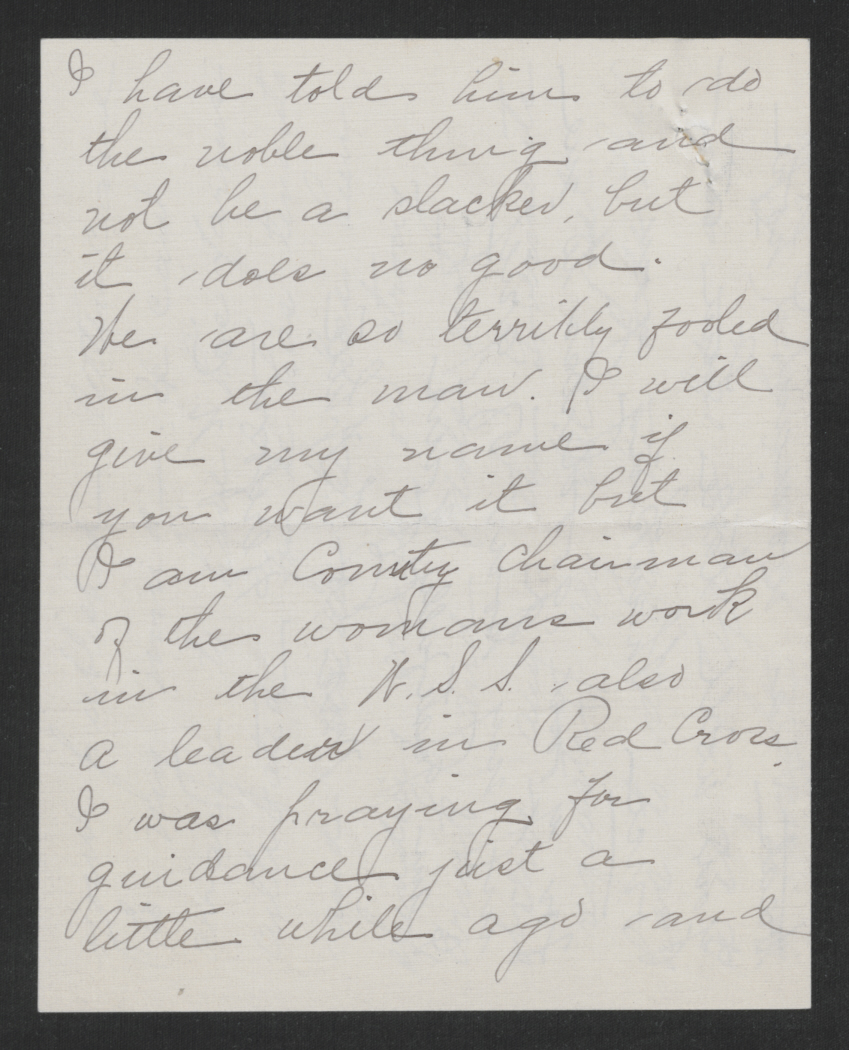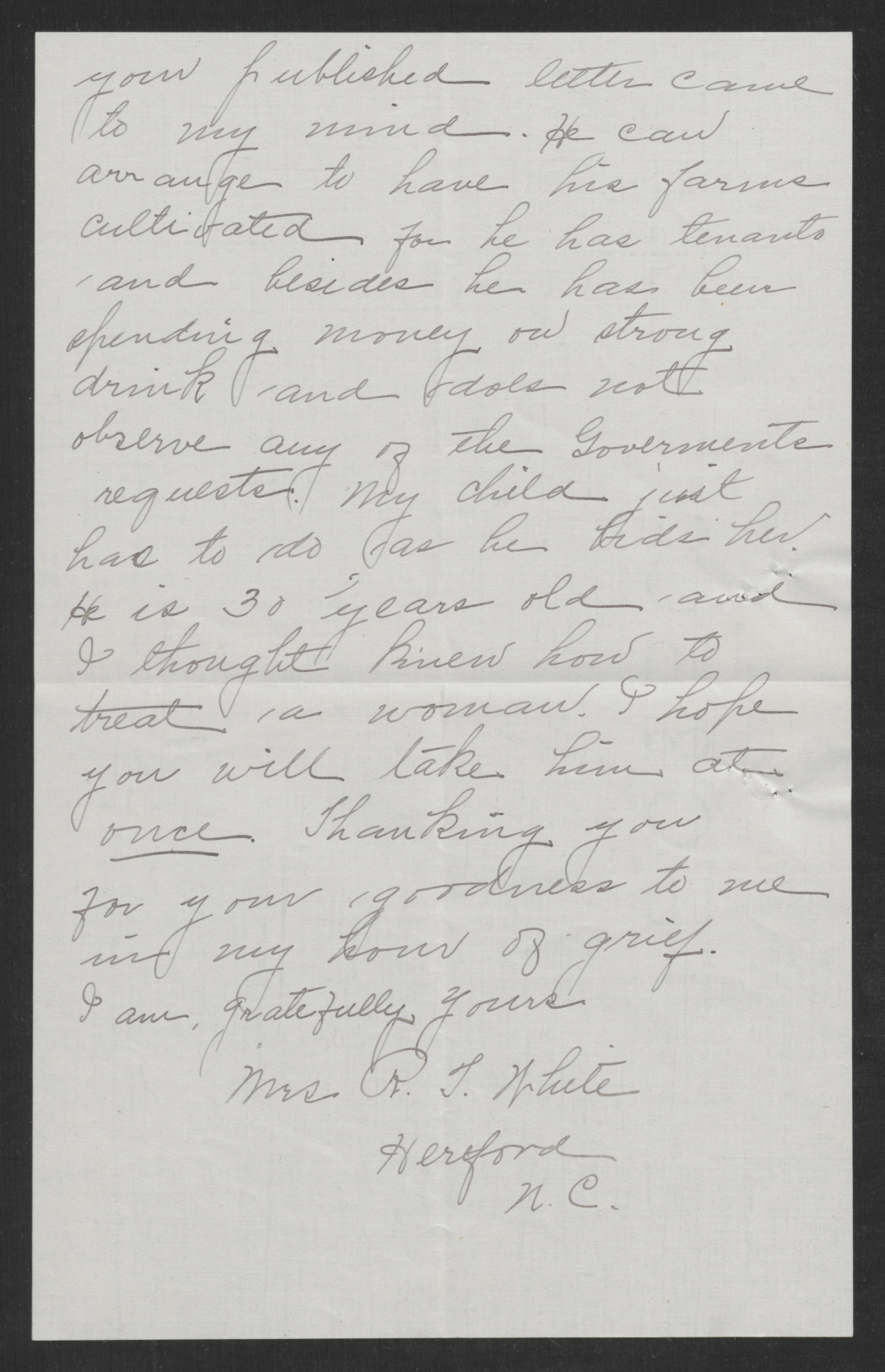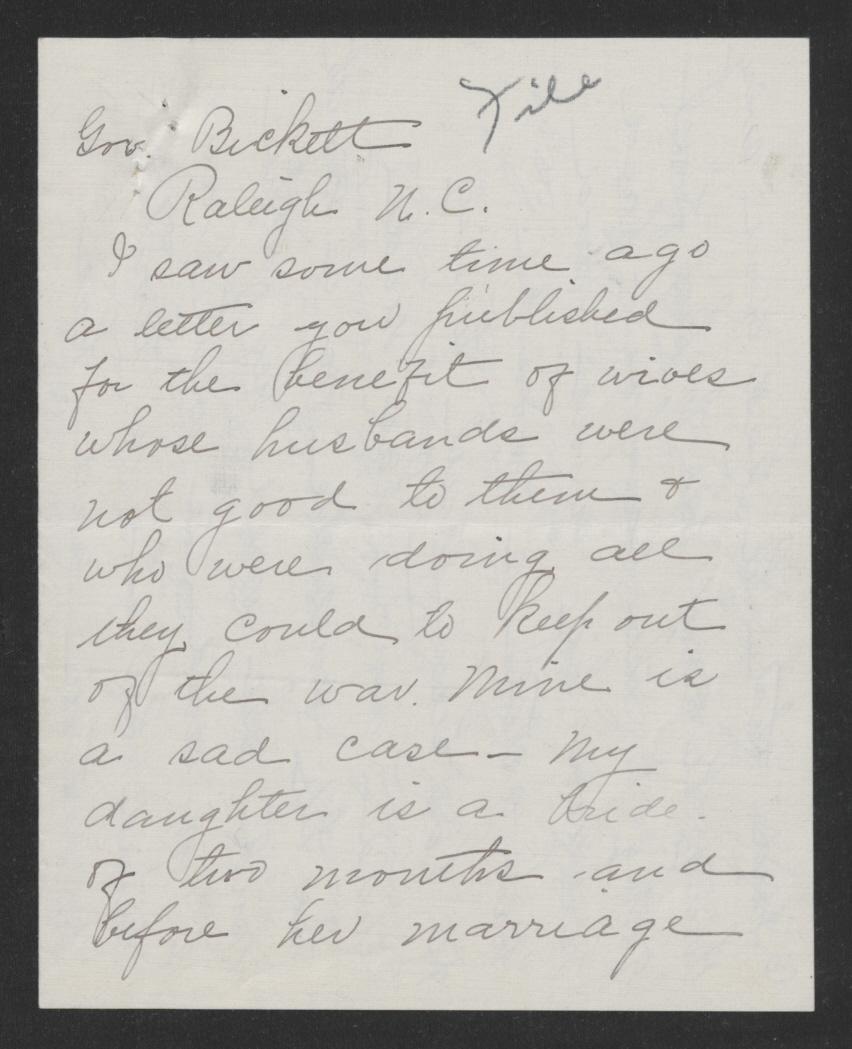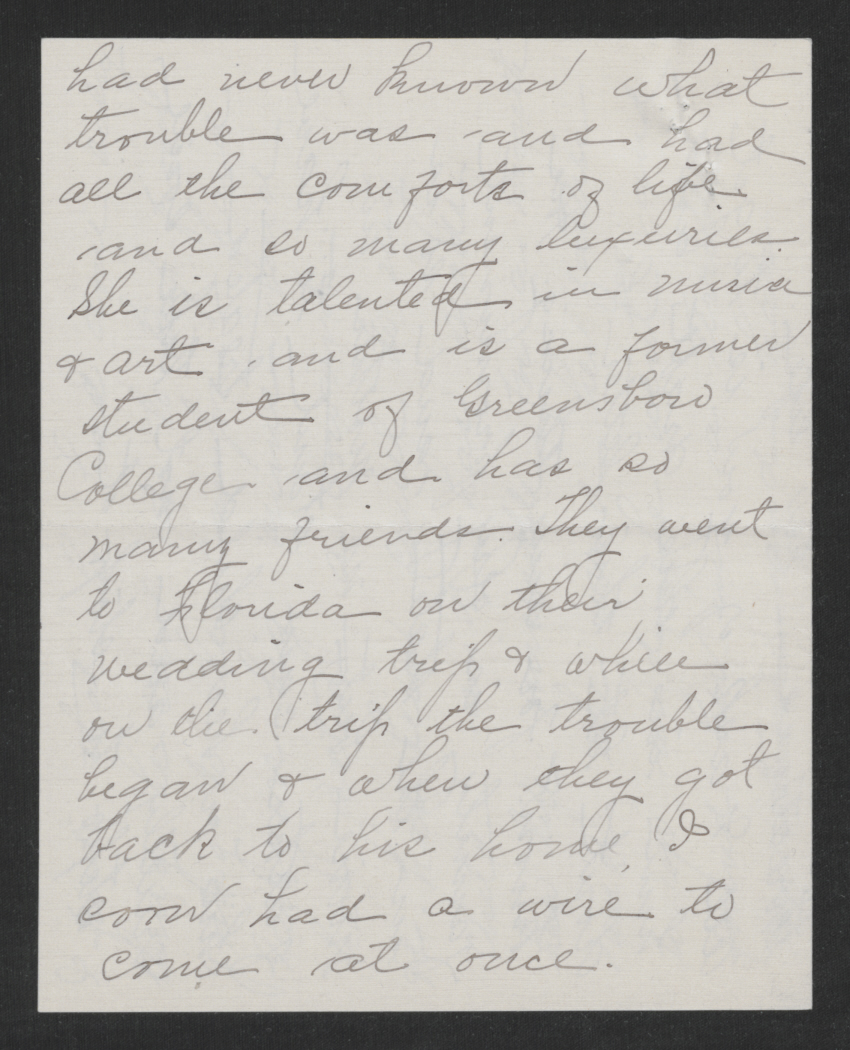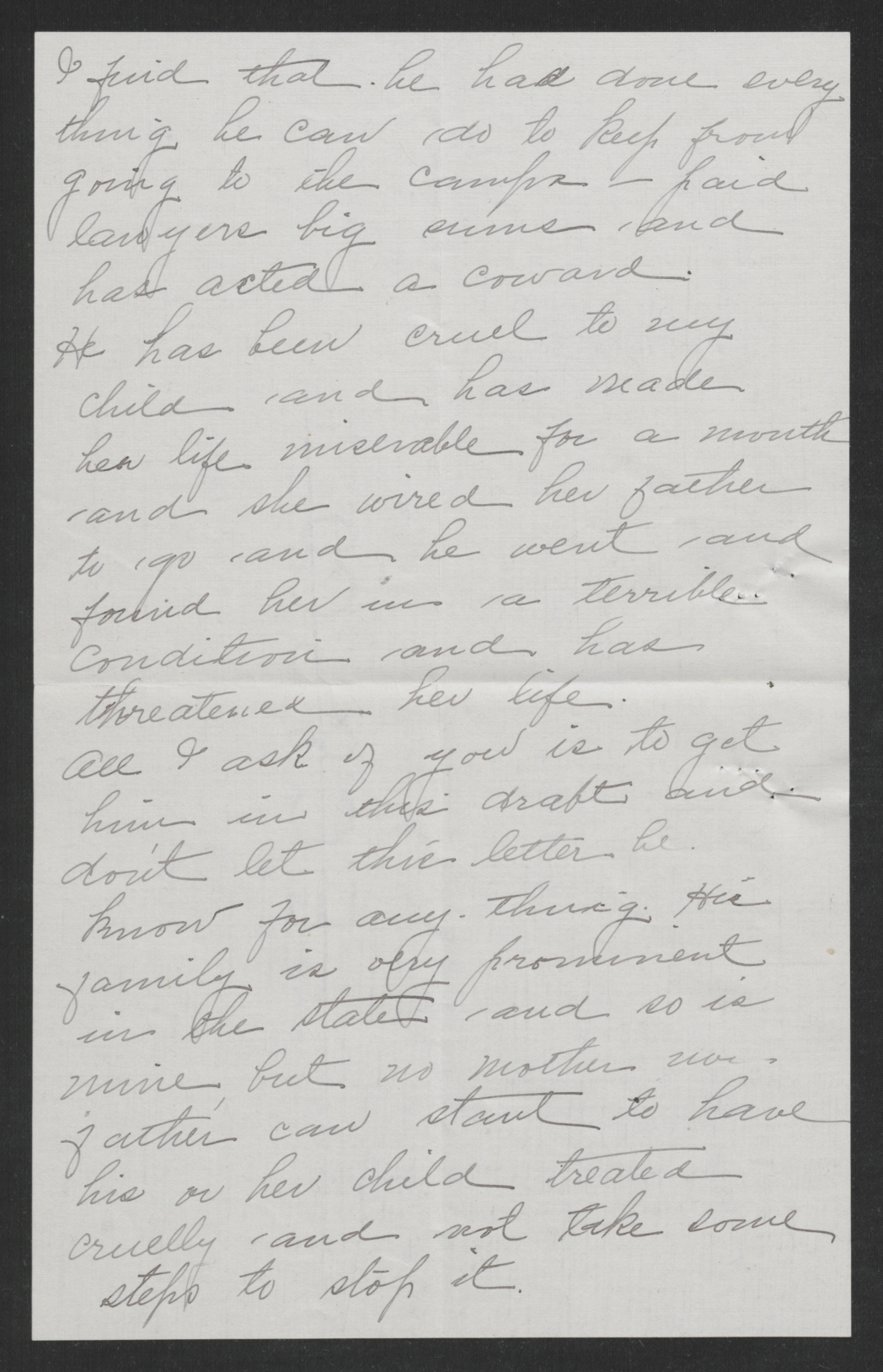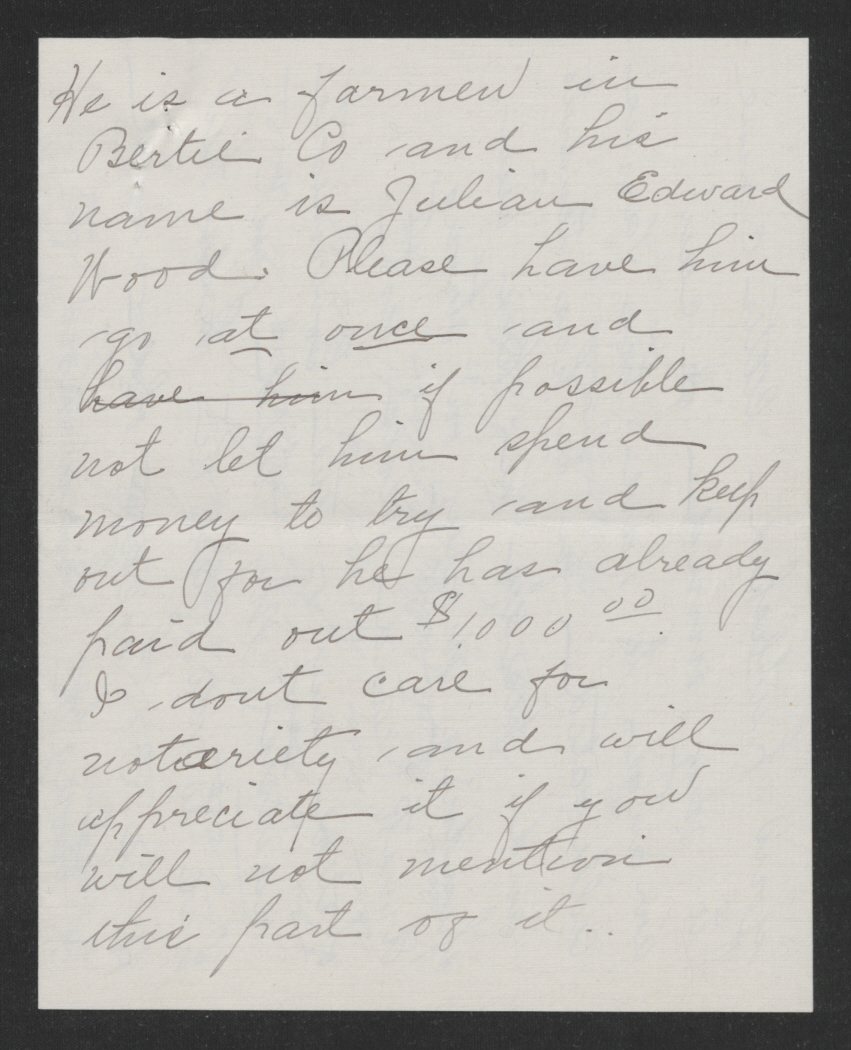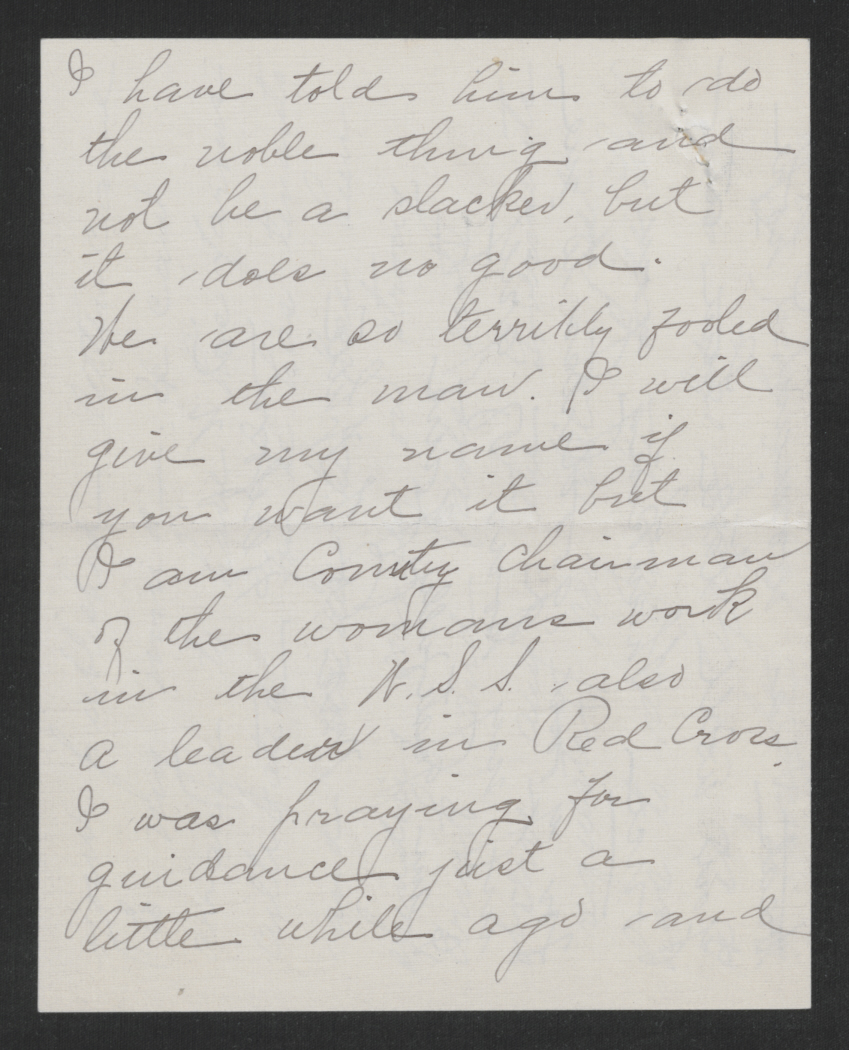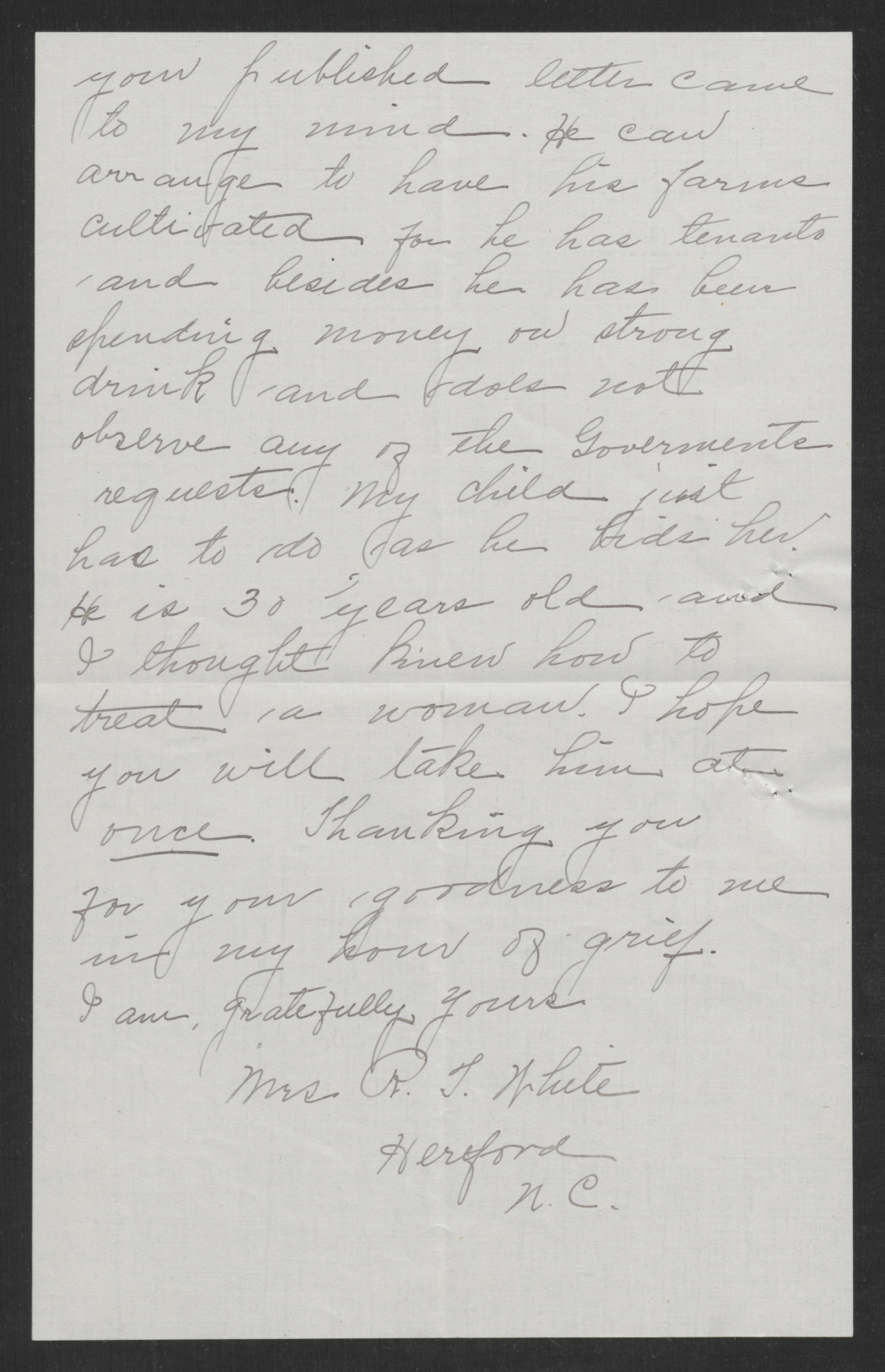 Gov. Bickett
Raleigh, N.C.
I saw some time ago a letter you published for the benefit of wives whose husbands were not good to them & who were doing all they could to keep out of the war. Mine is a sad case. My daughter1 is a bride of two months and before her marriage had never known what trouble was and had all the comforts of life and so many luxuries. She is talented in music & art and is a former student of Greensboro College and has so many friends. They went to Florida on their wedding trip & while on the trip the trouble began & when they got back to his house, I soon had a wire to come at once. I find that he has done every thing he can do to keep from going to the camps, paid lawyers big sums, and has acted a coward. He has been cruel to my child and has made her life miserable for a month and she wired her father to go and he went and found her in a terrible condition and has threatened her life. All I ask of you is to get him in this draft and don't let this letter be know for any thing. His family is very prominent in the state, and so is mine, but no mother nor father can stand to have his or her child treated cruelly and not take some steps to stop it. He is a farmer in Bertie Co. and his name is Julian Edward Wood. Please have him go at once, and if possible not let him spend money to try and keep out for he has already paid out $1000.00. I dont care for notoriety, and will appreciate it is you will not mention this part of it. I have told him to do the noble thing and not be a slacker, but it does no good. We are so terribly fooled in the man. I will give my name if you want it but I am County Chairman of the womans work in the W. S. S., also a leader in Red Cross. I was praying for guidance just a little while ago, and your published letter came to my mind. He can arrange to have his farms cultivated for he has tenants, and besides he has been spending money on strong drink, and does not observe any of the Governments requests. My child just has to do as he bids her. He is 30 years old and I thought knew how to treat a woman. I hope you will take him at once. Thanking you for your goodness to me in my hour of grief.
I am, gratefully, yours
Mrs. R. T. White
Hertford
N.C.
1. The author's daughter is Evelyn Ann White.
View More Record Details

Manuscript Type: