Letter from the Colored Knights of Pythias to Thomas W. Bickett, 20 July 1920
Recipient:
Collection:
Repository:
North Carolina, Office of Archives and History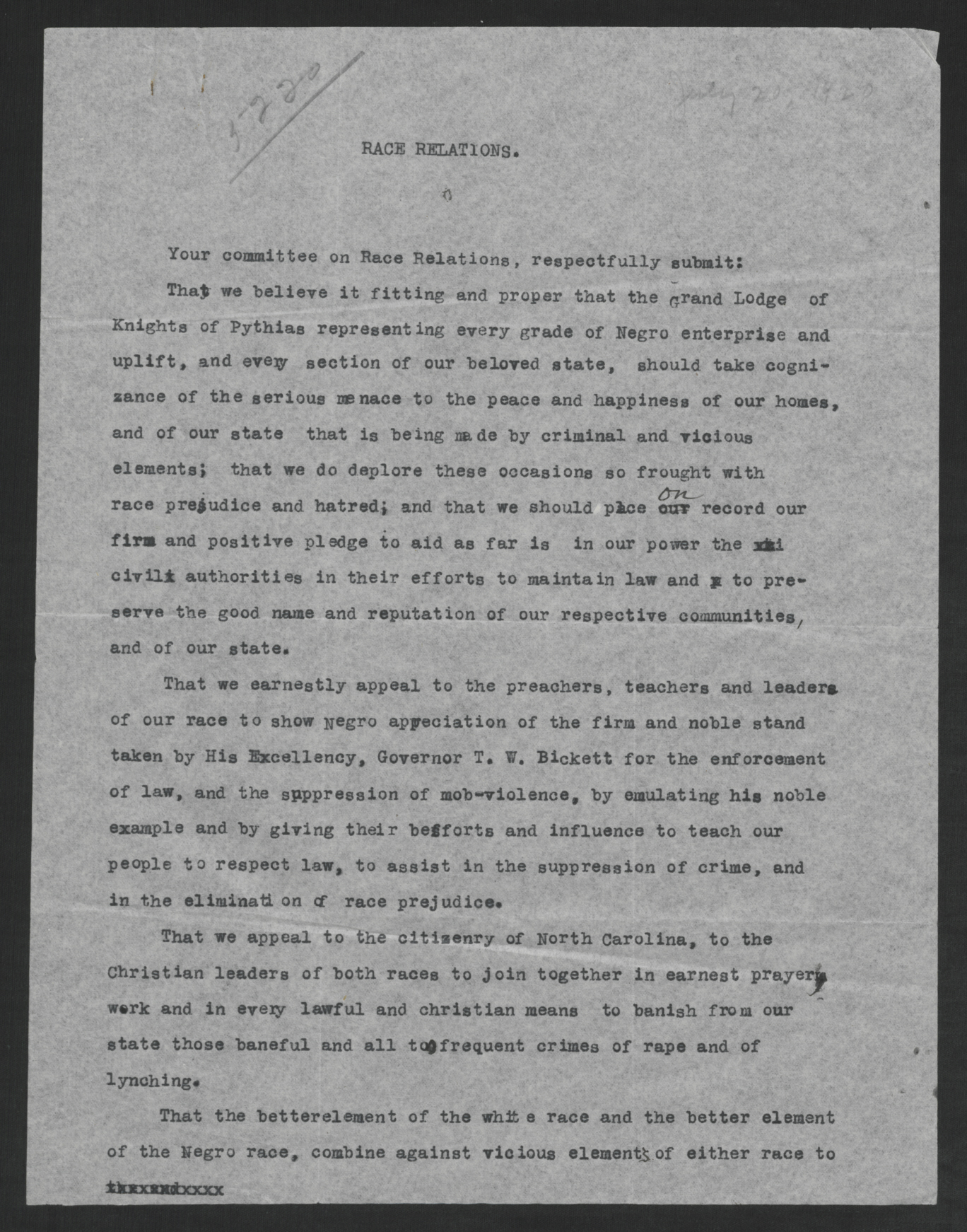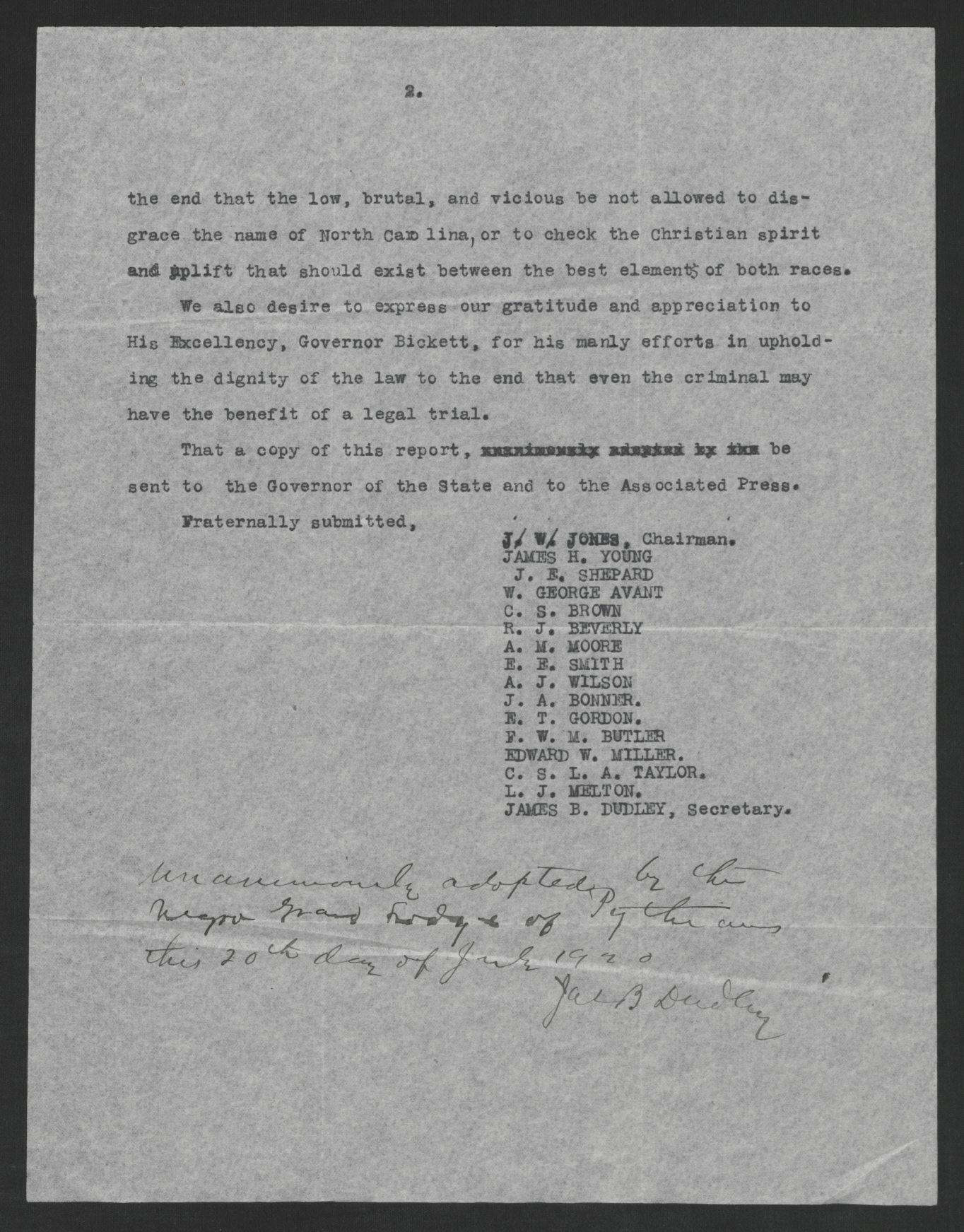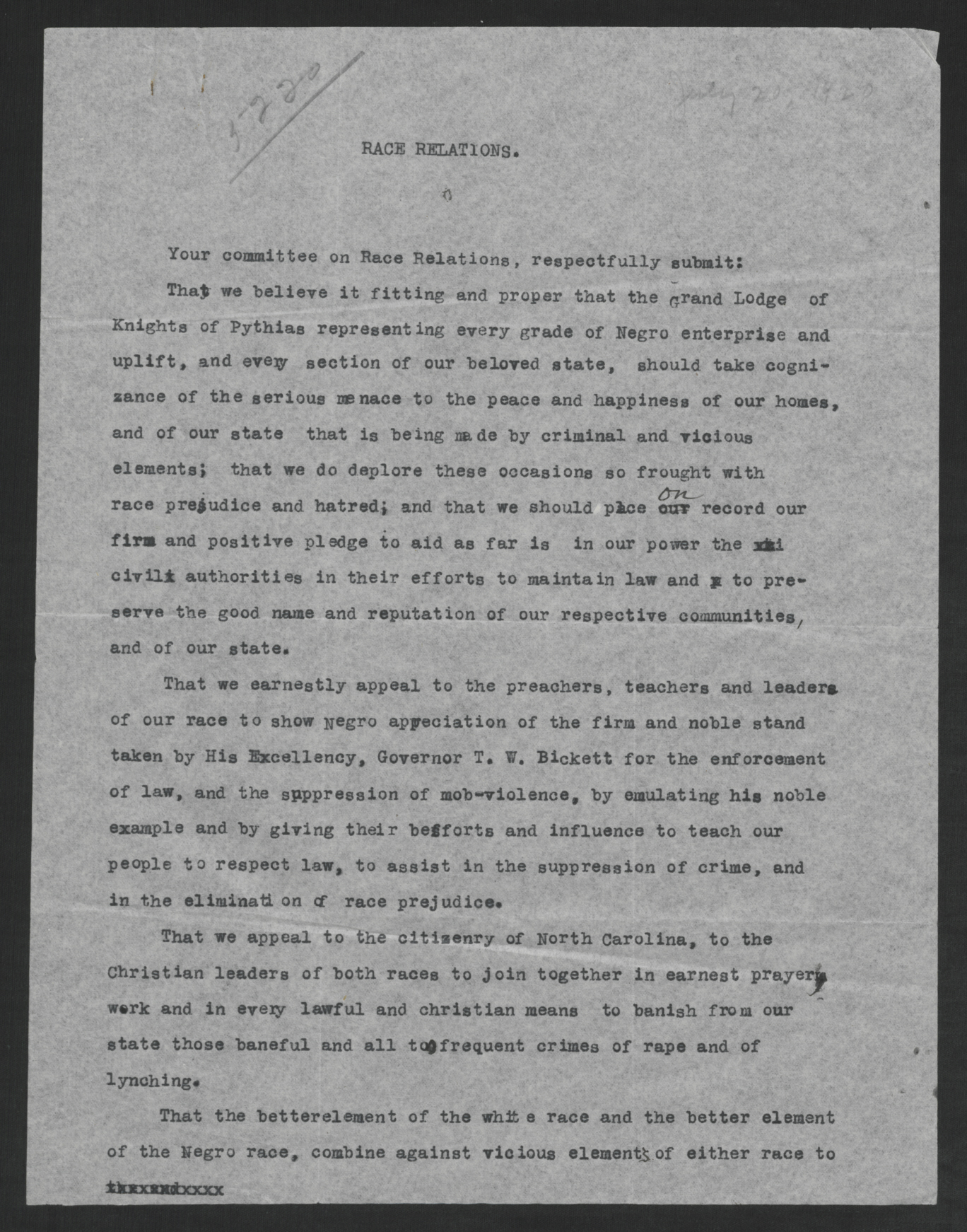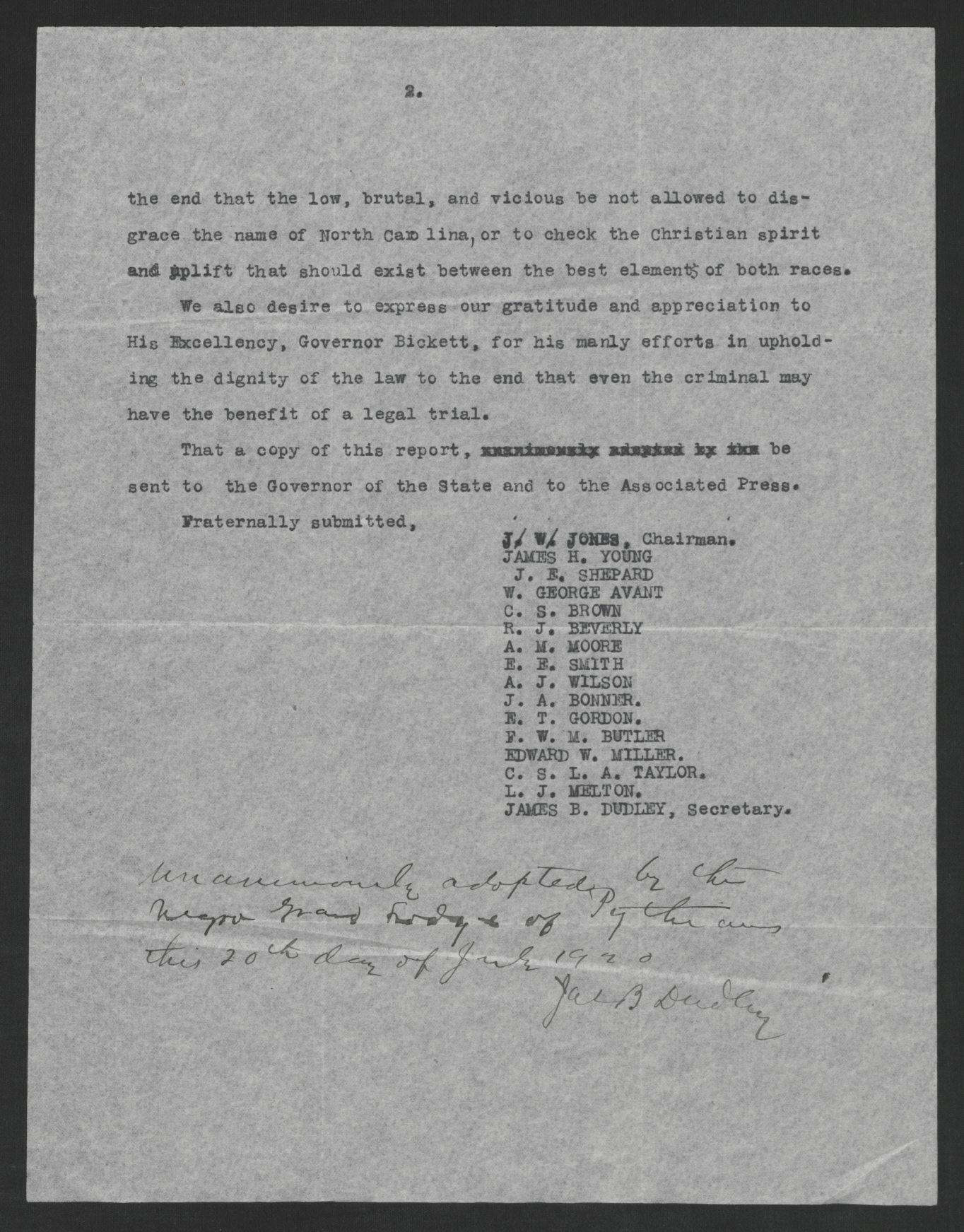 RACE RELATIONS.
July 20, 1920
Your committee on Race Relations, respectfully submit:
That we believe it fitting and proper that the Grand Lodge of Knights of Pythias representing every grade of Negro enterprise and uplift, and every section of our beloved state, should take cognizance of the serious menace to the peace and happiness of our homes, and of our state that is being made by criminal and vicious elements; that we do deplore these occasions so frought with race prejudice and hatred; and that we should place on record our firm and positive pledge to aid as far is in our power the civil authorities in their efforts to maintain law and to preserve the good name and reputation of our respective communities, and of our state.
That we earnestly appeal to the preachers, teachers and leaders of our race to show Negro appreciation of the firm and noble stand taken by His Excellency, Governor T. W. Bickett for the enforcement of law, and the suppression of mob-violence, by emulating his noble example and by giving their besforts and influence to teach our people to respect law, to assist in the suppression of crime, and in the elimination of race prejudice.
That we appeal to the citizenry of North Carolina, to the Christian leaders of both races to join together in earnest prayer work and in every lawful and christian means to banish from our state those baneful and all too frequent crimes of rape and of lynching.
That the betterelement of the white race and the better element of the Negro race, combine against vicious elements of either race to the end that the low, brutal, and vicious be not allowed to disgrace the name of North Carolina, or to check the Christian spirit and uplift that should exist between the best elements of both races.
We also desire to express of our gratitude and appreciation to His Excellency, Governor Bickett, for his manly efforts in upholding the dignity of the law to the end that even the criminal may have the benefit of a legal trial.
That a copy of this report, be sent to the Governor of the State and to the Associated Press.
Fraternally submitted,
J. W. JONES, Chairman.
JAMES H. YOUNG
J. E. SHEPARD
W. GEORGE AVANT
C. S. BROWN
R. J. BEVERLY
A. M. MOORE
E. E. SMITH
A. J. WILSON
J. A. BONNER.
E. T. GORDON.
F. W. M. BUTLER
EDWARD W. MILLER.
C. S. L. A. TAYLOR.
L. J. MELTON.
JAMES B. DUDLEY, Secretary.
Unanimously adopted by the Negro Grand Lodge of Pythias this 20th day of July 1920
Jas B Dudley
View More Record Details

Manuscript Type: